Archery is one of the three big sports in Mongolia and I was anxious to try it. After visiting a Buddhist Temple in the city center we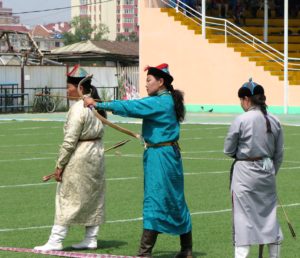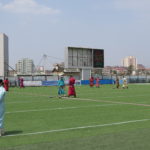 happened on an archery tournament. Watching from the fence it was obvious that the target was a ball on the ground and not an elevated bullseye. Each archer would shoot 8 arrows at the center ball before rotating turns. The best out of 64 would win. Not only was the competition impressive but the outfits the athletes w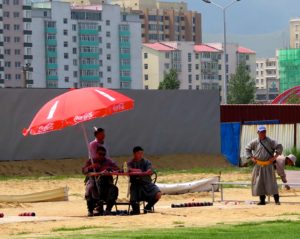 ore were just as fascinating.
Mongolian clothing can be divided into three categories: everyday, ceremonial and official clothes. There are 20 ethnic groups in Mongolia and each group has its own traditional clothing and ornaments. Clothing and jewelry reflect things such as history, relationships and age. I was fortunate to be there when a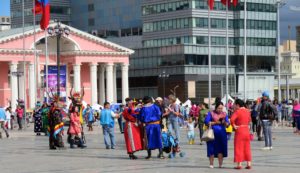 national event was taking place in Ulaanbaatar's main square. Mongolians from all over the country attended in traditional dress proudly representing their region.
In the closet of most Mongolians a del hangs and on an ordinary day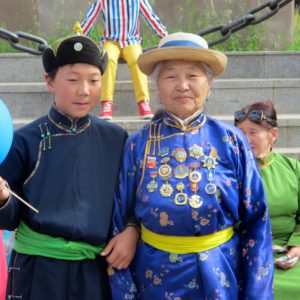 the elderly can often be seen in this wearing this article of clothing. A del is the length of a trench coat, it has a high collar with buttons on the right and the fabric slants across the chest. The lower part of the slant is loose and acts as a pocket to store and keep warm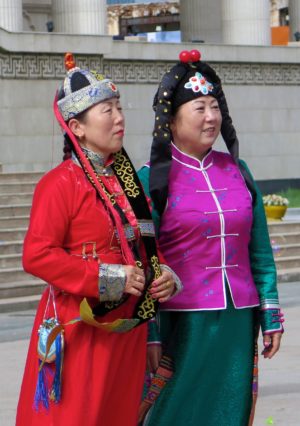 everything from food to children. The sleeves are long with wide cuffs that unfold to cover the hands when holding reins in cold weather.
It was hot when I was in Mongolia and this made my two-day stay in a ger (click here for more about a ger) comfortable. We didn't have to light the stove and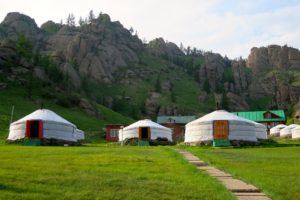 suffer with the smoke in exchange for warmth. The ger was located in Terelj National Park. This park is only a couple of hours outside of the city and worth the visit. The park was made up of unique rock formations and green valleys being grazed by livestock. A hike to the local Buddhist Monaster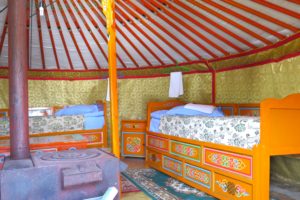 y entailed a climb up and over a mountain that offered sweeping views of the valleys below.
It was at the park where I was able to experience archery for the first time. Having dominated a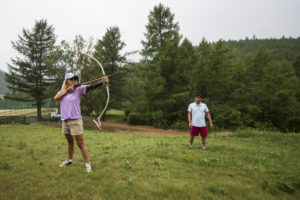 friendly competition, where the target was eye-level and not on the ground, made me want to look into a place to learn archery when I return home. Mongolia was unlike any other Asia country that I have been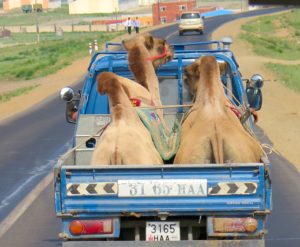 to. It just felt and looked so different. The culture, the people with their interesting religion and superstitions made it a magical place for me. One that I not only want to return to but a country that has moved into a spot on my top five countries that I would highly recommend.