The moon was big & bright which is usually a good thing unless you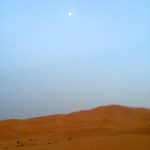 take a two-hour camel ride into the Sahara Desert with the goal of seeing the stars. Getting to the camel transport was a chore in itself. A full day of driving that included a couple of interesting stops at Kasbah of Ait Ben Haddou and the Todra gourde and few not so interesting. Being tourists of course we were detoured into places where we listened to the hard sell to buy "original" Moroccan goods. The first night we spent at a hotel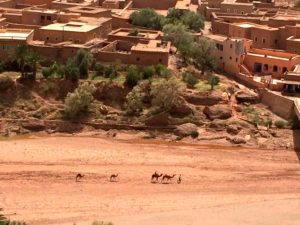 that might have seen better days.
The twelve-hour trip was really all about the finale we envisioned; Sleeping under the stars in the Sahara Desert. We arrived in the desert before the sun set but at a time when the moon was also visible. Our hopeful view of the galaxy got realistically smaller.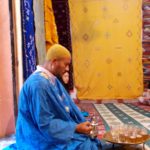 At camp the food was served in big bowls and everyone received a fork. That's it just one fork, no plate no drinks nothing but veggies, rice, chicken and a fork for all to dig and re-dig into. Did I mention the trip was an average of $80 for 3 days, I say average because here bargaining skills determine prices. What could have been the biggest disappointment of my summer trip turned into one of my fondest memories.
The people in my group who were a tad bit younger than me, ok yes a lot younger, but such a spectacular collection of travelers. They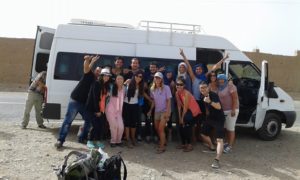 were from Mexico, Italy, Morocco, America, Germany and China. This group was talented (they really could jam on the local drums) intelligent, kind and so much fun.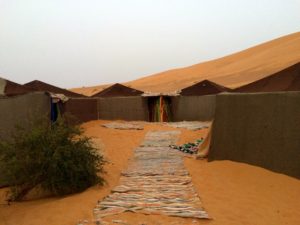 No stars? No problem there was a 460 meter (1509.19 feet or 94 stories) sand dune next to the camp. We clawed and climbed our way to the top where the whipping wind made the sand feel like light electric shocks to any exposed body part. The view was stupendous and the night was magnificent.
The Berber tent, where the blankets I assure you haven't been washed in months, was extremely hot so we decided to nap under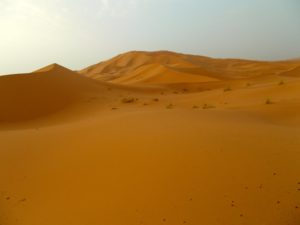 the moon. Eventually the moon finally set, allowing us a few hours to see the Milky Way.
I saw at least 1 shooting star and I made a wish on behalf of a friend. The wish I made reminded me of how lucky we all were to have the physical and financial means to be in the middle of nowhere doing what we loved most, traveling.