ARUBA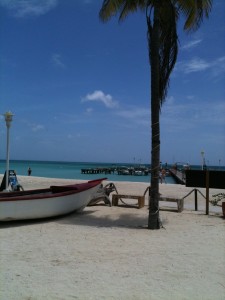 Stepping off the plane in Aruba you will feel the heat followed by a nice breeze. The trade winds blow across this island all year, keeping even the heat of the summer tolerable. Stepping onto the grounds of your hotel you will likely see a beautiful white sandy beach. A majority of the properties have been built on a seven mile strip of sand located on the island's west coast. Stepping away from life as you know it, Aruba may be the respite you are looking for.
This gem of an island has wide white sand beaches and brilliant aqua blue water that the Caribbean is known. All the typical beach vacation destination water sports are available- snorkeling, fishing, diving, wind surfing, parasailing. If it is luck you are feeling there are many casinos that will gladly help you explore your premonition.
This island is a paradise for those that prefer resort relaxation as opposed to experiencing a culture shock. If you are arriving with U.S. Dollars there is no need to stop at the money exchange. Prices are displayed in dollars in most places a visitor will find oneself. There are familiar hotel chains one can chose from to set up home base. The restaurant chains are on the island too. For example there is a Hard Rock Cafe, a Fridays and even a Hooters. As for shopping, Lacoste, Louis Vuitton and Ralph Lauren are just a few examples of the high end stores. If it is a taste of this Dutch island you are looking for there are locally owned shops and restaurants scattered among the more familiar brands.
When traveling abroad, not speaking the language of the country you are visiting can be a source of frustration. In Aruba if you speak English, Spanish, and the island's official languages Dutch and Papiamento, you won't run into a language barrier. Most people working in the tourism industry can assist you in any of the four languages. There are two main tourist areas on the island Oranjestad and Palm Beach. The two towns are about a ten minute drive away from each other.
Palm Beach is where most of the hotels are located. A majority of them line the beach but they do not feel intrusive. One still feels the island vibe once the property is left. Nightlife is as close as a block away from the hotels on the beach. There are several blocks filled with restaurants that can interest any appetite. Easily found will be menus that offer seafood, meat, pasta or sushi. Just as easy to locate will be items on a shopping list that may include souvenirs, jewelry, clothes, swimwear, or shoes. There are a couple of art galleries and local artist Elisa Lejuez has her working studio just up the street. Don't be surprised if you run into a local, those that live on the island also frequent the restaurants, shops and movie theatre in this area.
A lot of the locals work in Oranjestad, Aruba's downtown area. This is where the island's government is located. It is not your typical business district, although there are just a few hotels located here, the blocks are filled with shops and restaurants. The marina, where charters are available, is located on the waterfront across from where Parliament meets. A sign is all that gives away the purpose of this building located in an area that feels as if it was constructed for tourists. The building may not be an attraction for visitors but there is no doubt that tourism is often the topic of conversation inside since it is Aruba's main source of income.
A topic even Prime Minister Mike Eman will gladly find time to discuss. "See the sights," is what Prime Minister Eman suggests when asked what else there is to do on the island if one wants to wipe the sand off their feet for the day.
"Explore natural wonders throughout Arikok National Park, the Casibari and Ayo rock formations and Indian caves," suggests Prime Minister Eman. Aruba is about 19 miles long and at most 6 miles across. There are only a few main roads, making driving the island a breeze. If its history you are interested in he recommends a walk through the Bushiribana gold mill, Aruba Aloe Factory and Alto Vista Chapel. There are a few Museums in Oranjestad including a new Archaeology Museum. The Prime Minister also has ideas for families traveling with children, "Kids will enjoy all the creatures at the Butterfly Farm, Ostrich Farm and Donkey Sanctuary."
If it's the creature comforts of a good resort you are looking for this may be the place for you. "Aruba is the ideal place to vacation," according to Prime Minister Eman, "as its friendly people and warm atmosphere create a welcoming experience." If you don't want to take his word for it he will refer you to an impressive statistic; 60% of those that visit Aruba return. That is the highest repeat rate of any Caribbean destination. As you are stepping off that plane onto this Caribbean island remember it may be your first visit but odds are high it will not be your last.