June 2016
$1= 46php (Php below are accurate USD may be a bit off depending on exchange rate)
I didn't properly see Cebu because I used it as a stopover when island hopping. Every flight seems to go through Cebu and unfortunately the connections are so bad that most times you must spend the night. It also has a port for Ferry service.
FERRY: The port is in Cebu. *unlike the airport see below. The ferries run often and they are easy to use. You buy your ticket outside the terminal but when you go in you have to pay a port fee of 120php ($2.75) and then you have to take your ticket to another counter to get your seat. Yes the seats are assigned. The fast ferry line I took had two prices. One for open-air seating and the other for air-conditioned. From Cebu to Bohol it was a two hour ride costing 800php ($17.50) for open-air and 1000php ($21.50). I found the open-air seating fine. It was covered when it rained and once the boat took off there was a nice breeze.
AIRPORT: It is NOT in Cebu it is on Mactan Island. Lapu Lapu is the name of the city. To me the airport was the best part of this place. It was nice, easy and had awesome free WIFI. There is a bus for 25php (.55) that will take you to Cebu and drop you near the Radisson Blue Hotel.
AIRPORT to FERRY: In a metered taxi it cost 250php ($5.50)
Mactan Island: I feel I saw most of it and I would recommend getting off the island as soon as you can.
MACTAN HOTELS: We stayed at 2 different ones both relatively close to the airport.
Express Inn: Metered Taxi 142php ($3.30) from airport. Room with two beds was $28 and included breakfast. It was fine but beds don't have a top sheet only a blanket and that bothers me. I can't believe they are washed after each guest, but maybe they are. That was my only real complaint for the price. It seemed remote on a residential street.
We took a trike to Cordova for dinner at the Lantaw Floating Restaurant. A total tourist trap where we watched Asian visitors spend their entire dinner taking selfies luckily for them most arrived with their own selfie sticks. Nothing more than an interesting place to kill time and get a bite to eat.
Eloisa Royal Suites $67 a night and they offer a free shuttle to and from the airport and port. It's a great hotel. The least expensive rooms are small but they have everything you would need or not, including a blow dryer. Location is perfect. Just next door you can get a massage for as little as  $5.50.  A block away is an outlet mall, supermarket and a few restaurants.
EAT: Pigga Feta in the food area at the outlet mall next to Eloisa Hotel. This place had excellent Italian food. It was one of the best meals I had. It is expensive for the Philippines but so worth it. Caprese Salad 320php ($7) Fettuccini Alfredo 270php ($5.75)
THINGS TO DO: The hotel said there are no movie theaters or public beaches on Mactan Island so we went to the #1 tourist spot. This was the Lapu Lapu and the Ferdinand Magellan monument, located on the spot where Lapu Lapu's forces killed the explorer.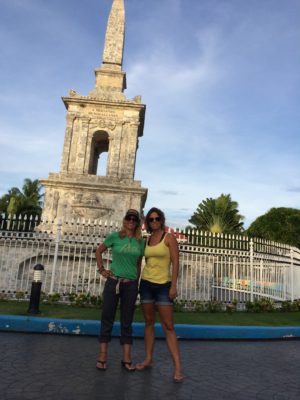 From the Eloisa we took 2 Jeepneys. Small trucks with benches in the bed. This is the only time we almost were ripped off that we know of. They are less than a dollar a ride but the driver in one wanted more from the gringos. We refused and with the help of a local who protested in the native tongue on our behalf we didn't pay the inflated rate. A couple of monuments and a line of stalls selling the same crap souvenirs. Don't make a special trip.