July 2014
ETHIOPIA
Loved it! Friendly interesting place where the history is rich & many people speak English. Unfortunately it was rainy season so we didn't get to see as much of it as I would have liked!
TIPS:
-If you fly into the country on Ethiopian Air, internal flights are offered for more than 1/2 price
-Go into the office to get airline tickets (they will be cheaper than online) an office is in the Radisson in Addis next to the hotel noted below
-Food & drinks are very inexpensive expect to pay an average of $12 for 2 dishes with a wine & beer.
Addis Ababa:
A big city but with a few attractions and good restaurants that is it worth a few nights.
HOTEL: Jupiter International (next to Radisson but less expensive) about $165 a night. The staff was wonderful (GM worked in the states for a long time and understands good customer service) the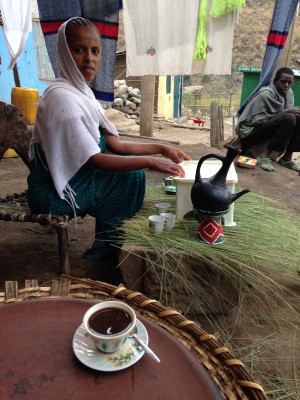 room was fine but should be better when they finish renovations in Sept. It's in a good area from where we walked to the museums. Be careful to get a room NOT facing the street. On weekends a nearby bar is so loud it will keep you up. The shuttle to and from the airport is free as is breakfast and WIFI. The hotel has a counter in the airport where you can get the FREE shuttle.
DRINK: When leaving hotel walk straight across the main road and continue straight. A bar is about 4 stalls down on the right. Look for the blue gate. A cozy tiny local place where Genet the owner will pour you a drink. She doesn't speak much English but a couple regulars do.
RESTAURANTS: We went to 2 of the well known ones and weren't disappointed. Castelli an Italian place (yep their influence is still present) where you are not warmly welcomed but the food more than makes up for it. It's old school Italian. We had wonderful homemade lasagna & penne parmesan (their version of carbonara), our bill was $50 and half of it was the bottle of good wine.
Then we went to Yod Abyssinia they have traditional Ethiopian food which was very good. They also have a show and music but we left before that started.
DO NOT MISS: (can walk from hotel)
Red Terror Martyrs Memorial Museum: Get a guide, which is by donation only. He was amazing and really brought the museum & this tragic time in the country's history to life. If he's busy with other visitors he's worth the wait!
National Museum: As soon as you enter the sign says, "Welcome Home." Referring to this country's boast as the cradle of civilization. This is where you can see a replica of "Lucy" The real skeleton is kept under lock and key.
Go! A small village in the country where mountains make up the landscapes and mules still rule over any type of machinery. The culture seems to date back to the time the amazing stone hewn churches were built. Seeing churches hand carved out of massive rocks, hiding in natural caves and built as early as the 10th century AD was breathtaking!
PLANE: Tickets from Addis with the EA discount were about $60 per person 1 way
HOTEL: Panorama View Hotel. I was really pleased with this place. It is clean the bright room had hot water & a big balcony with a beautiful view which included some monkeys. The staff was anxious to help.  It's an easy minutes walk to town center. Trip advisor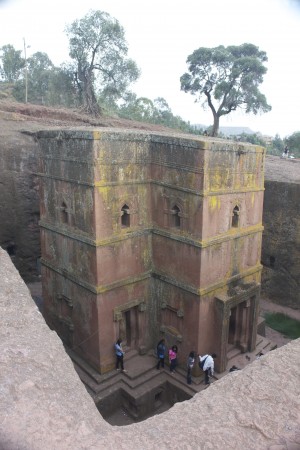 showed no availability for our dates but we emailed the hotel and were offered $45 for the room since it was a slow time.
THINGS TO DO: Take a Guided Tour of the churches. We used the guide associated with the hotel. His name is Kassa Alele (EthiopiaAwaits.com ) who speaks French & English and conversationally Dutch. He was worth the cost. Kind, smart and fun.
We hired him for a day and a half where we saw all the sites listed below. The total cost about $150 This included a nice car with 4 wheel drive but not included was the cash payment to get into the churches.
The rock hewn churches around the city are just mindboggling. To enter it will cost $50pp.
45 kilometers from town is Yemrhane Kristios a 10 century AD church built in a cave. It's worth a visit. The walk is paved but it's a nice uphill hike to the cave Cost to enter 200bir pp ($10)
Afterwards we had 3 coffees & an Injera from a local woman near the road 50birr ($2.50)
It was Saturday so we visited the weekly market in the area where 3 main things were sold agriculture products, livestock ($15 for a goat) and plastic shoes.
Sunday: Attend a service in one of the historic churches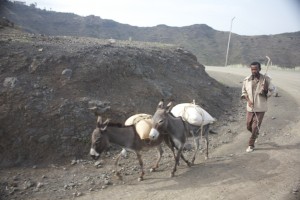 FOOD: 7 Olives Restaurant: Where you will see all the tourists who flew in with you. They have traditional Ethiopian food and pasta.
Ben Abeye – It's the strange building that looks like a waterslide & has amazing views. It's owned by a friendly Scottish lady who has trained her staff well. The food was ok and it's close to the hotel.
DRINKS:  A couple places around corner from the hotel if you walk to the right. The best part was we were the only tourists and were welcomed by the friendly locals.
Terrace Traditional Hall– for traditional coffee and popcorn or cocktails. A wonderful local place with inside & outdoor seating
Bar- another local place not sure the name but has a bar sign. Right around the corner from the Terrace. The outside seating has straw all over the floor. It was like walking into a stable.
###