HONDURAS ISLANDS & COPAN  (2014)
I spent most of my time on the islands off the Caribbean Coast of Honduras. La Ceiba is the town on the mainland to catch the ferry or a boat to these islands. Here I have information on the islands of Utila, Roatan, Cayos Cochinos and the Honduran cities of La Ceiba, San Pedro Sula and Copan. Copan is known for it's Mayan Ruins but it's a lovely town with friendly locals.
Quick Tips:
-$1 = 20 lempiras
-Bring a mask, snorkel, fins & bug spray
-See La Ceiba for bus and ferry information. I recommend the tourist bus Hedman Alas for anywhere in Honduras.
UTILA
The friendly people contribute to this tiny island's wonderful laid-back vibe. The town and it's cast of characters, from everywhere in the world, are what makes this place so special. It's a safe, fun place to hang your hat for a while where everyone fits in no matter your age or background. This island is not for everyone if you want 5 stars or even a solid 4 star you can stop reading.  This is a backpacker's paradise for a reason; things are inexpensive. This is not the prettiest island I have ever seen. The reef is good but not amazing. The two beaches aren't great and the bugs can be annoying if there's no wind. That said it still managed to find it a special place in my nomadic heart. The main reason to visit is to dive or get certified during the day and party at night.
Language: You don't have to learn Spanish to come here because most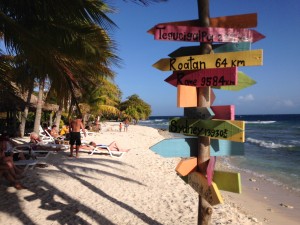 people on the island speaks English, but it is nice to talk to the Hondurans in their language.
Money:  Some places will take your US dollar but most deal in lempiras. The menu and prices quoted are local currency and here 100 lempiras (5 bucks) goes a long way. There are a couple ATMs on the island.
Dress: A pair of flip-flops, a bathing suit, a few t-shirts, a couple shorts, a towel, sunscreen, bug-spray and snorkel gear is all you need.
Getting There and Away: You can fly from San Pedro Sula, La Ceiba or from Roatan on a charter IF they are flying that day. Your best bet if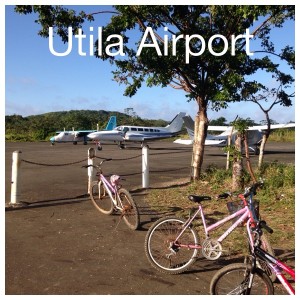 you are in Roatan is to "like" the Utila Buy and Sell Facebook page. (On this page not only will you see when fresh orange juice or bread is available but pilots post their flight information)
If you don't fly there's a ferry that comes over twice a day, when weather permits, from La Ceiba In Utila the dock & place to get tickets in Utila is over the bridge next to the brick hotel at the end of town 517Lps one way and you need your passport. The ferry isn't fast and as my friend correctly described it, it's like being in a coffin. It's all enclosed, smells like gasoline & has hard metal seats. The ferry is cheap and easy but warning if you don't have sea legs then bring a bag!
There's a coffee shop a few doors down from the ferry dock in Utila that will hold your bag while you search for a place to stay.
WHERE TO STAY: Jo and Tony were the best "landlords" I've ever had and they own Gardens at Jerico. They go out of their way to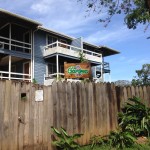 make sure their guest have a good time while on the island. They look out for their guest and will do what they can to assure you have everything you need. (He's TonyOnUtila on Facebook and twitter) They truly are wonderful ambassadors for this island.
They own two places to stay. The Gardens will cost about  $55 plus tax for a 1-bedroom apartment with a kitchen, living room and balcony. It's only a few blocks from the waterfront and if you don't want to take the easy walk down the small hill a tuk-tuk will cost you between 20lps – 30lps ($1 – $1.50) from anywhere in "town." Jo and Tony also own a fancier two-bedroom room with a full kitchen, flatscreen TVs and a pool. (It's the apartment under their home)
Laundry: There aren't any dryers on this island but plenty of places to drop off your clothes to be cleaned and sun dried. A large load will cost about $5. The housekeeper at the Gardens will do laundry for the guests.
Things to Do:  Most people come here to get their dive certification because it's inexpensive. For a "fun dive" its about $25 per dive depending on how many you book. There are so many dive shops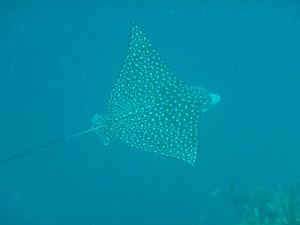 here and they all have different personalities. There's free accommodations for those diving with the shop. There are dive shops where the party never stops and others that have a more professional atmosphere. If I returned I would probably dive with Coral View. (known for it's professionalism) They are at the far end of town but they will pick you up. At the bar on Coral View's dock there's a nice reef to snorkel, even if you don't dive with them it's worth checking out
You will run across the occasional eagle ray, octopus or sea turtle but the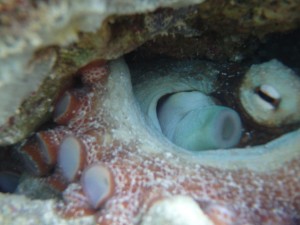 smaller critters like seahorses, squids and marine life I can't name are what make it unique. On every dive you will likely see the angle, parrot, trumpet, porcupine and other reef fish.
Take a trip to Water Cay, an uninhabited island, that will cost about $15 for the round-trip boat ride. There's nothing there but a decent reef to snorkel and a nice beach to sit on so bring food, drinks and a good book.
There's two beaches, one on each side of town. Chepas, beach is the free beach. The other beach is called Bango beach and it costs $3 to visit they have chairs available and it's usually empty because most people don't want to pay the entrance price. (Also see Neptunes below)
Whether you hike Pumpkin Hill, the water tower or decide to sit on a dock with a cold beer do NOT miss sunset.
There's a yoga studio on the island that offers classes several times a day!
Drink, Eat and Watch Sunset  There are plenty of good places to choose from and you can eat for $5 unless you get fancy than count on spending $10.
For the "best damned chicken" (it's on the sign in the yard) Nile's.  It's a small shack and you may have to knock on the closed window but it is well worth it. The fried chicken is excellent. Chicken $5 a huge plate of a thin chicken breast ( I hear he beats it with a coke bottle) fried, plantains and salad. You can get it to go.
I loved Tranquila. Monica the owner is awesome and I liked that it was a mixed clientele. It's a place where locals, expats and tourist all mix.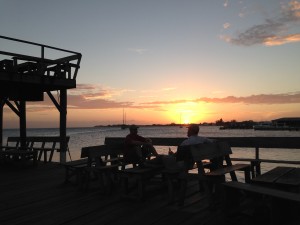 The later it gets the younger the crowd, yes like most places. The end of its dock is the perfect place to be at sunset.  If you're hungry there's some good local food at the kitchen out front and when opened the Chinese restaurant adjacent to the bar is awesome. Plates are big enough to share.
Francesca and Mitch are the new owners of Babulu. You can always find them there so make sure you say hello. You will likely notice the "Aquarium" sign on the street. I like the rum punch here at it costs 32lmps. (less than 2 bucks) You can sit at one of the tables with a checkers board or on a bench that looks down at the aquarium, a hole in the middle of the dock. There are always fish and I saw a few squids swim by but of course I missed the night the huge moray eel swam through.
You can't miss a trip or maybe two once in the day and another at night to Jade Seahorse. I have no idea how to describe this place. The owner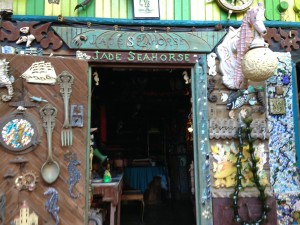 is an artist and his work is eclectic, there are bottles, stones, shells and gems covering every inch of the property. Pictures can never do it justice it's something that needs to be seen in person.
For a nice beach and a good lunch take the boat over to Neptunes (it's dock is down past the public beach) It's a great place to spend the day. There's good snorkeling off the dock, chairs to lounge in and the food is good.
Driftwood: Here you can count on a solid meal and everything from burgers to fish to quesadillas. The food is always solid. A few days a week Jim and his buddy  (former Texans) spend hours smoking chicken.
SkidRow: I only had the pizza here and it was good.
Bucaneers: I had the pork chop special one night and it was great!! Nellie the owner is very nice and helpful.
Munchies: Is a popular spot on the main drag. One night a week they have all you can eat pasta. They have a large menu with everything on it. The brownie with ice-cream, I highly recommend. The Wi-Fi is good here so during the day stop in for a banana smoothie and use it.
Mermaids: The bargain buffet is always an option for a quick meal.
Mango Inn: The restaurant at the hotel is owned by an Italian guy. They have a brick oven and makes great pizza. (only available for dinner) It's off the main road in the hotel's courtyard.
I also recommend having a sunset 2 x 1 margarita at the restaurant El Picante.
 ROATAN
I have been on this island many times over the years and during this trip I was stunned at how much it has changed. The main street in West End is no longer a dirt road and it is now lined with hotels, restaurants, bars and stores. It can get very busy. I only stayed a couple of days in the West End before moving on to Utila so this is all I can offer.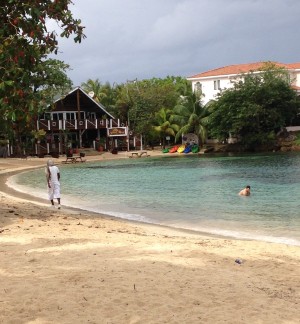 Bar/Restaurant:
West End cigars not the cigar place on the beach it's across from the beach and it's an awesome place for sunset. Plus the owner and his wife Kendra couldn't be any more hospitable I liked spending my money with them.
Lobster Pot is a local place but to get there you need to cut in front on Barefoot Hostel at the end of the road then take the beach a few doors down 380 Honduran (about 20 bucks) for fresh fish, key lime pie and a soda.
Hotel: Rooms are fine at the Splash Inn with all the expected amenities and cost about $55. I witnessed a disturbing exchange between the owner and a customer. Let's just say he treated her as if he had so much business he could care less about fixing her problem, which would have put him out the cost of breakfast. I was stunned at what I overheard and this really turned me off to this hotel. A dive is $35 and the folks in the dive shop are friendly but I would recommend looking for another place to stay.
If you want a beautiful beach and less people to deal with take the very short boat ride to the beautiful beach of West Bay. There are many hotels here.
Another great option is to rent a private residence. Check out Island House Vacations they have properties of all sizes in every location the island!
La Ceiba
This town is the place tourists go to catch the bus or a boat to and from the Honduran Islands. It's the place where those living on the islands go to shop and get medical care. This city has a bad rap but I found the people to be nice and I felt safe walking the streets alone. The beach is okay as long as you get to the isolated areas where it's not littered with trash.
Hotel Quinta Real $107 with ocean view & breakfast  (during Semana Santa) It's probably one of the nicest places in the area. It's on the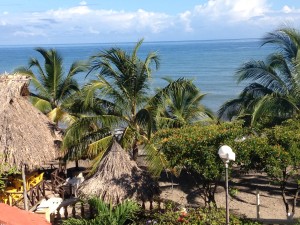 beach & has a pool yet you can walk to the center of town. Towels are available at the pool bar when you leave 100 Lempiras as deposit. Rooms are as expected TV, hot water, clean. The staff is nice and helpful.
A cheaper alternative is Hotel Paris. It is about $50 a night and located on the plaza. A lot of people who live on the islands stay here when coming to town. It has a pool. I was only in the lobby so I can't give you an opinion on the rooms.
Taxi from La Ceiba airport to the beach is $10. If you need a taxi call Daniel he speaks English and spent some time in New Orleans building houses after Katrina 98 584794
As any mid-sized city there's a bunch of restaurants to choose from. On the square you can even find a Pizza Hunt and down the street a Dunkin Donuts.
Bus: To get to the Hedman Alas bus office in La Ceiba it cost $10 for a driver that met me at the ferry (thank you Tony on Utila) & took me to their office. It is down the street from where the public buses depart. The cost for the 4 hour trip rom La Ceiba to San Pedro Sula was 554 lempiras  ($28) for the highest class.
I had 4 hours to wait so I dropped my bags with the nice guys  & armed guards in the office & walked to beach about 10 minutes away. I found a bar that will make La Ceiba's beach look like paradise (it is not) when you get to the beach walk to the left & the bar is in front of Hotel Paseo Delfin.
Walking back, the bakery on the same side of the street as Hedman's (directly across the street from the bank) has great Empanadas for 14lmps ($ .75)  
San Pedro Sula
Another town to just pass through but it doesn't have a beach. It's known for frequently making someone's dangerous city list. During the day I had no problem walking around here but it did remind me of a street in Baghdad. The homes were surround by big concrete walls with barbed wires affixed to the top and some even have armed guards in turrets protecting the property.
Hotel: I spend the night on my way out of Honduras and stayed at La Hamaca Hostel $35 private shares bath $40 private w/ bath. It's a compound that is walled in with a nice sitting area, pool table, foosball and they even have a chef so clients don't have to go out for dinner. A very fancy mall is within walking distance as is a laundry mat.
Taxi from Hedman Bus station to La Hamaca Hostel $15. It was about the same to the San Pedro Sula airport.
CAYOS COCHINOS 
If you want a beautiful isolated island this is the place for you. The diving here is good. The reefs are healthy since there are not many tourists who make it to this outpost. The only way to get here is by boat from La Ceiba. In good weather it should take about an hour. There's one hotel and a hostel on this island.
Hotel: I stayed at Turtle Bay Eco Resort and enjoyed it but it was EXPENSIVE. I am extremely embarrassed to say I ended up paying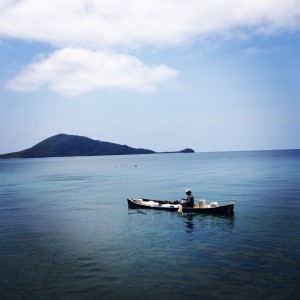 $939.38 for 3 days and not including tips. (hotel recommended $120) The owners do a good job trying to keep their guests happy therefore I hate to have to give you the reality because I really liked them and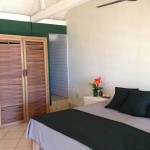 hope they succeed. That said for 3 nights I paid $527 for a room with an ocean view. This rate included the room, a tour of the neighboring islands, taxes, eco friendly shampoo and soap. (which was really individual packets of Head and Shoulders shampoo) and a fixed breakfast & lunch and they charged me a bit extra for a single supplement. Add the items that are al la carte  including an additional $100 for transportation to and from the island. Dinner is not part of the original price and there's no other place to dine so you will choose from the set menu for $14.99 (depending on the day it's burgers, tacos, etc) or $18.99 for fresh fish (you will see the fisherman coming to the resort to sell their catch) I had 2 set meals and fish one night. ( $48.97)  The diving is $40 a tank plus a $35 dollar rental fee for equipment. (I did two dives costing $150) Add the marine park fee of $10 plus another $70 at the bar and the taxes and there you have it almost a $1000. To bring the price down they do have special packages but you have to stay for a week.
The room was basic with a fan & warm water but the property is relaxing with hammocks everywhere and nice places to sit on and off the dock. There's a beach with calm water that is perfect if you are traveling with children. I can't stress it enough BRING BUG SPRAY. The no-see-ums can be unbearable.  Another warning: their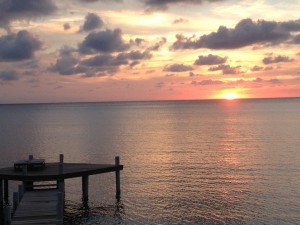 cancellation policy is strict, they will keep full amount so read about it on their website before booking. The staff was wonderful and I had a good time but in hindsight I wouldn't have stayed here. I booked it on impulse and I was thankful that they worked with my schedule but in the end that's a lot of money for 3 days. If you go I would bring bug spray, snacks, alcohol, books, games and if you have it your own dive gear!
The good news is the dive gear is nice and new. Jason the dive master knows what he is doing. This is the first place I ever had to do a safety check in the water before the boat would leave for the dive site.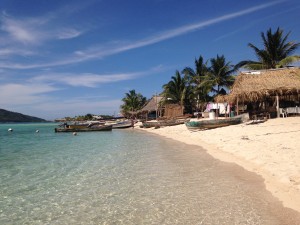 A wise  idea that more dive shops should consider.
If money isn't an issue I would say go for it, it's a nice place with a friendly staff.
The other place to sleep is Laru Beya Cabanas and Restaurante. They have dorms and charge $20 a bed. What I like about this place is it is a cooperative. It was set up as an alternative to fishing (as most places there's concern with overfishing) for the locals who live here in what is called the East End. http://cayoscochinoshonduras.webs.com/hospedaje.htm

Copan
I loved this town! The cobble stone streets are clean with a pretty plaza where cowboys get their boots shinned, the friendly people never pass without a greeting and I felt safer here than any other place I have been.
HOTEL: I stayed at Casa Dona Elana  B& B and adored it! It was a great deal at $25 for a single room that has a private bath and flat screen TV.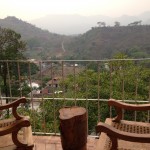 The grounds are nice & some rooms have balconies with a good view. The owner's son who will greet you speaks English and is extremely welcoming & helpful. I wish I could have stayed longer. This is a great price for a nice place with gracious hosts.
THINGS TO DO: The main thing to do here is visit the Mayan Ruins. The cost to enter is $10. If you go when they first open about 8am you can watch as the beautiful Macaws are feed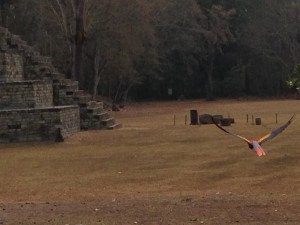 then take off into the park. I arranged for a Tuk-Tuk to take me and it was about $2.50 to get there.
The town is great to walk around and explore. I saw signs for other trips which include hot springs and hiking but my time was limited so I did not book any tours.
FOOD: As I mentioned above I wasn't in town very long but I did have dinner at Mia Tia restaurant one night. No surprise I once again found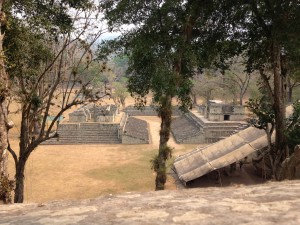 myself in an Uruguayan restaurant, what can I say it's a favorite country of mine. The owner's children work there and they are so sweet, please go in and let them practice their English with you. The food was really good.
Copan to Antigua, Guatemala: This was an easy trip I booked a shuttle with Tropical Travel Association for $45. The border crossing was a breeze and it cost about $2 to get into Guatemala. The entire trip was 6 hours.
Misc. Transportation:
Tegucigalpa Airport: The domestic airport tax is $2 pay at the bank while the international fee is $36. Domestic flights leave from upstairs and international downstairs.  (Marriott Hotel down the street from the airport has a sports bar, pool, spa and offers free shuttles to the nearby mall and FYI it was $80 one way to La Ceiba)
Hedman Alas Bus
The tourist bus companydoes a great job at making it easy to travel all around Honduras. The buses are really nice as is the staff on and off line! It's worth the extra couple bucks to upgrade to 1st class.
##