LAKE LANIER:
Before leaving Atlanta a quick stop at ALONS ( on Highland ave) was the way to go. I wish I could find a place like this in Ft. lauderdale. It's a market and bakery. The best place to buy cheese, crackers and homemade breakfast breads for your trip. I personally think a lamb sandwich for the drive is a good idea 🙂 They have wine too but you can go two doors down to the wine store for a larger selection. The food is homemade and picnic perfect!!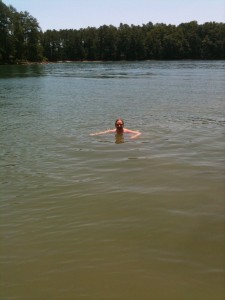 Where to stay? We opted for a "condo" on the lake in Gainesville GA. It took us about 45 minutes to get there from Alons. We did a rental by owner on the Internet. The price was right and the place was fine. The local neighbors couldn't have been any nicer. They were so hospitable!
BOAT: Port Royale Marina has many boats for rent. We opted for a small speed boat that seats 4 comfortably. It was $270 for 4 hours and you had to fill it up with gas upon return. Our gas was $28 but we spent a lot of time anchored and swimming in the WARM water!!
I plan to return one day & rent the huge platoon party boat that looked like a blast
Pelican Pete's is the restaurant at the dock and I will tell you it's a good place for a drink. On the same dock is the Gas Island store. This place has everything!! Food, beer, sunscreen, clothes, laundry detergent, jewelry etc.
LOCAL WATERING HOLE: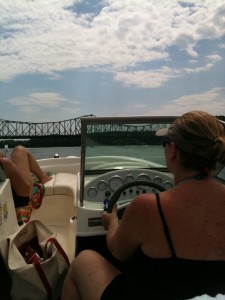 Pier 29 is a fun bar with excellent burgers and great prices! Once you think the place can't get any better the old rock & roll playing band starts to jam and they are awesome. WARNING: leave your heels at home this is a flipflop and t-shirt type establishment.