June 2016
$1= 46php  (Php below are accurate USD may be a bit off depending on exchange rate)
Siargao (Shar-gow) Island is known as the surf capital of the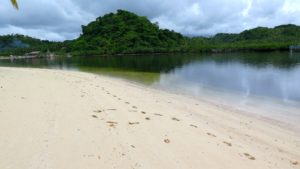 Philippians. The famous Cloud 9 Wave is in General Luna and that is the place you will likely be headed.  Click here to read more about why I loved this island but continue below for specific prices and places.
HOTEL: Buddha Surf Resort 2500php ($54) a night for a room with two beds and breakfast. Here breakfast did not include a drink. It was clean, convenient and the staff was great. The rooms were spacious and clean with a nice porch that had a clothes rack and umbrella. The food in the restaurant is very good and offers a hearty an well done American breakfast, of course here they call it the Surfer. See things to do because the hotel arranged most of them for us. There are hammocks to relax in and a yoga class is offered two times a day. It's across the street from a beach.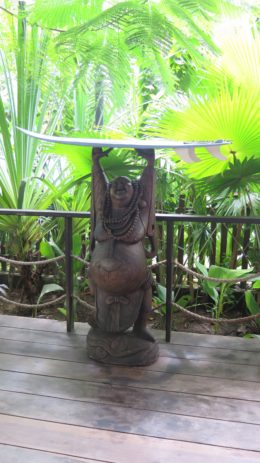 TRANSPORTATION: From the airport to General Luna there are shuttle vans 300php ($6.50) each way and the hotel will arrange them.
Around town motorbikes are the mode of transportation. Just stand in the street and wave one down. You can get anywhere by hopping on the back of one for about 50 cents 20php.
THINGS TO DO: "What am I doing today?" I would ask Chris, the Buddha manager, and he'd arrange everything. Island hopping, surfing, lagoon tour and a self guided motorbike tour.
Surf: That's what people from around the world come here for but if you are a beginner be careful the surf breaks here are coral so no sandy bottom. Your hotel or wherever you rent your board (in front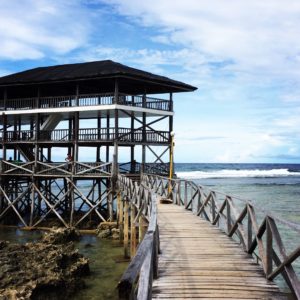 of Cloud 9) you can talk to them about boats to different breaks and a guide if you are new to the sport. FYI the waves were flat when I was there June was off-season.
Cloud 9: There is a "boardwalk" that will take you closer to the action at this famous break. No matter the wave size there always seemed to be people in the water to watch. I was told the boardwalk, which I would refer to as a pier, gets rebuilt every year for the big surf contest. When we were there it was beat up and one had to really watch their step.
Island Hopping: There are 3 islands that you really should see. The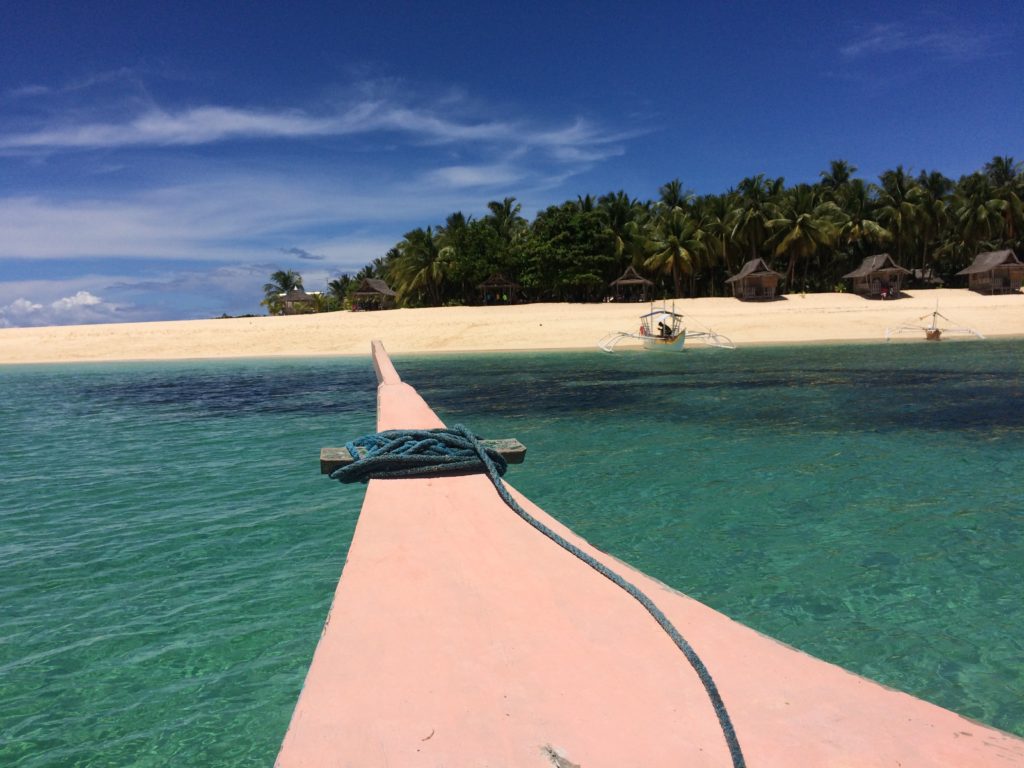 beaches are beautiful and the water with the different shapes of blue is warm. If you brought your mask don't forget to bring it. There are some neat critters and coral to see. Lunch is included 1600php ($34)
Sugba Lagoon It's on the other side of the island requiring a van ride than a boat trip past the mangroves. The cost included stand up paddleboards, snorkel equipment and lunch. It was 2200php ($47)
Magpupungko Pools: Natural pools that a large reef in the ocean creates. The pools are created by big rock formations that surround the warm clear blue water. You can get here on your own by renting a motorbike, *see below, or take a tour. If you take a motorbike it is about 10 minutes past the town of Pilar look for the sign, the turn off is on the right. (we passed it on our trip) There's a nice beach, food stalls a parking fee of 20php and an entrance fee, which I can't remember the price but it was nominal. Once again take your snorkel gear with you!
Motorbike/Beaches: For about $10 a day you can rent your own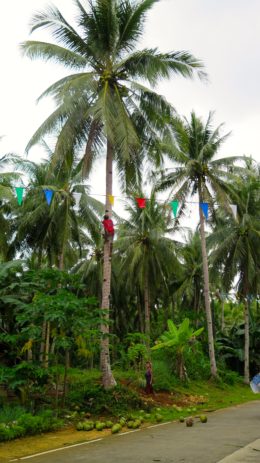 motorbike. It's easy to drive on this island because there are hardly any cars. At times I was the only person on the road.
Beaches: You can take your bike or a trike to the beach just near Cloud 9 and the other one at the opposite end past the center of General Luna. Then you can cut across the mountain to
EAT / DRINK
Shiraz is on beach in front of Cloud 9 is owned by an Aussie. It's a really nice bar and you can watch the surfers if you sit out front. The chicken sliders were really good you get 3 sliders for 190php. ($4) If you want steak or schnitzel the price is 230php. ($4.80) A coke 40php ($.84) and a beer 50php. ($1.05)
Kawayan in Cloud 9. A great place from atmosphere to service and most importantly the food. The fried rice was really good but a bit spicy and you must order the homemade ice cream. It comes with with a wonderful cram and a tasty biscuit. The ice-cream alone is worth the visit. An example of the pricing we had 1mango & rum, 1 rum & coke 1 fried rice & 2 homemade ice creams for 750php ($16)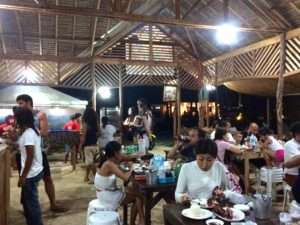 Mama's Grill Great inexpensive local restaurant that gets packed at night. You see and pick your own meat or fish and they grill it. The food is wonderful and the price is shocking. We had 4 pork chops, 3 vegetables skewers, 1 pint of rum & 1 liter of coke for a total of 430php ($9.12)
Ocean 101 Also in Cloud 9. It's a nice place on the water but its one of those where the menu is way too big. The chicken sandwich was fine and that with a calamansi juice was 190php ($4)
Kermits: The pizza was my favorite in the Philippines. I don't remember the costs.
Others: There were so many places to eat that we couldn't go to them all. For inexpensive food there are a few local places in General Luna proper.