December 2012
QUICK TIPS:
 -US passport holders will pay $160 for entry visa. The visa is good for as long as the passport is valid                                                                     
-Power adapter, we were able to borrow them from the front desk the adapter we usually use in South America didn't work
-All hotels we stayed in breakfast & WIFI were included
-If you rent a car be specific about the fuel you want  (mas barato / cheapest) if you are not they will fill the tank with the most expensive gas
-Tipping rate is 10% at restaurants
-I found the best rates for hotels in the area on Booking.com, most of the time they were better than the hotel's Internet site
-Exchange rate for this blog $1 USD = 479 CLP
-Check sunrise & sunset so you can plan accordingly when we were there in Dec. the sun was up until about 10pm.
-Don't buy liquids in airport near gate, you will be checked again upon boarding so any water you bought will be tossed!!!
PATAGONIA/TORRES DEL PAINE:
 We rented a car at the Punta Arenas airport.  (If you rent cars while traveling I highly recommend getting the America Express rental car insurance plan it's a flat rate of $25 and is automatic when you rent and pay for the car with Amex. Decline the insurance from the agency.  On past trips, we had a few problems while overseas and Amex took care of everything)
PUNTA ARENAS:

HOTELS:
We spent the first night in Punta Arenas at the wonderful

Hotel Ilaia.

It is a small family owned and operated hotel. You are greeted as if you are a long lost relative visiting the motherland for the first time. The staff is wonderful, the décor is minimal yet hip and stylish. The rooms are clean and comfortable. Nice shower, no alarm clock or TV. There is a glass sitting room on the roof that overlooks the entire city, a good place to get comfortable with a good book.  The breakfast was hardy and there's on site parking. Price: $145 USD for matrimonial room.
 Upon returning to PA Hotel Ilaia was booked so we stayed at the

Best Western

.
The location is good, right in the center of town but the hotel was ok. Check in was a more reserved and professional experience. It was the only hotel out of the 7 we stayed in that did not have an electrical adapter to loan us. The room was spacious and had a sitting area but very old school. The bathroom was like one you'd find in a motel. It was fine for our needs that were one night with an early wake up call. Price: $158 USD for matrimonial room.
RESTAURANTS:

 

(meals including king crab are the local fresh dish down here)

One of my top three favorite restaurants in Chile was

La Marmita.

A charming place a few blocks from the square. It has the feel of a country inn. Service was great as was the food. They serve comfort food, Chilean style. We had a soup, pork & potatoes, crab salad with chunks of fresh king crab, ½ liter of wine and a bottle of water.  Price: $47 USD / 23,700 CLP
I loved the atmosphere and décor at

Jekus

but the service and food was just ok. We were there at an off-hour so maybe that is why things were just average. Here is where I tried the crab cannelloni, which seems to be on most menus in the area. This one was really rich.  The steak was excellent but the fries were not cooked.
With a couple of drinks this bill was $60 USD.
PARKING/RENTAL CAR/TAXI
We rented the car from the airport with ease but when we went to drop it at

Europcar

in downtown Punta Arenas the office was locked even though it was suppose to be opened. I walked to Hertz across the street and the nice guy there called our rental company to tell them we were waiting.
 When you park on the streets in town a

parking enforcer

will put a slip under your windshield with the time you arrived and like magic that same person will appear when you are returning to your car. This happens everywhere and we paid an equivalent of .75 cents for about 20 minutes.
 We took a

taxi

to the airport from downtown and it cost 7000 CPL about $15 USD. It is about a 20-minute drive.
DRIVING TO PUERTO NATALES / PENGUINS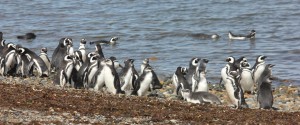 It's an easy yet uneventful 2.5 hour drive to this city that is the closest to Torres Del Paine Park. On the way and just north of the Punta Arenas airport on Ruta 9 is the turn off for the "Pinguinera." The sign is big and hard to miss. Thirty-eight clicks down a dirt road (we had a small car and it was fine on this road) you will find the

Seno Otway Penguin Colony

. It took us about 45 minutes to get there. On the way is an antique car museum.
To see the penguins it will cost you 5500 CLP about $11.55 USD and a toll of sorts that is 1500 CLP per person. There is a nice walking trail on the proper with several look out points. It will take about an hour to walk around the property if you aren't lingering too long looking at the birds. It is worth the trip if you are staying in PA or heading to PN.
PUERTO NATALES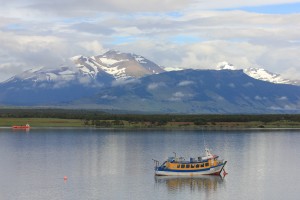 This town is lovely. It is surrounded by mountains and located on the shores of the Seno Última Esperanza. It is a great town to walk around. There are cute cafes, restaurants and shops.
The
information center

is on the water across from the gas station. They were very helpful and spoke English. It's a good place to pick up brochures and maps.
There is also an
artisan market

where locals sell pottery and items made of wool.
HOTELS:
The first hotel we stayed at was

Hotel Costaustralis

. Check in was smooth and the bellhop was very nice but the first room we went to on the 3rd floor smelled like stale smoke so we moved. The 4th floor seemed to be updated, the lighting in the hallways took away the dingy feeling of the floor below. The room was big, comfortable with a window that looks out at the water. This is a large hotel it was clean and fine but for the price we decided to try another place when we returned to town from the park. These rooms have a TV, safe & high end toiletries. Cost was $300 USD included breakfast and a welcome drink.
Upon returning to town we checked into the

Natalino

. We were relieved when we saw the room. It was smaller than those at the other hotel but it was chic, modern, comfy and clean. There was a safe, TV & hair dryer in the room. There is an indoor pool that is very small but heated and has nice views of the city. Cost was $200 USD including breakfast.
RESTAURANTS:
 I will start with my favorite

Afrigonia.

I liked this place so much that we went here twice. It is expensive but the food was so unique and good that we thought it was worth it! It is owned by a couple, the Chef is from Zambia Africa and his wife is from Chile, their food reflects a wonderful blend of the two cultures. Service was top notch. The food was outstanding and the presentation was beautiful. This place makes, serves and presents its food with love. If you want good food this place is for you. We had the crab appetizer, rack of lamb, tuna special, a bottle of wine and bottle of water. It cost 47,600 CLP about $100 USD.
 I decided to try the local king crab cannelloni again at

Angelica.

It was pretty good; there was more crab on this one and not as sweet. The homemade bread was awesome. We also had a steak and 2 bottles of water. Our meal was fine. The cost was 31,800 CLP or about $67 USD.
For lunch one day we dropped into

LIVING

the vegetarian restaurant across from the square. It was fine. The place to go if you want something light like soup or salad. We had a fried cheese appetizer, a soup, a side salad and two sodas. The cost was 11,600 CLP about $24 USD.
On the advice of our guidebook, I couldn't turn down trying what they called unusually good pizza down here,

La Mesita Grande

. As in its name it is a long wooden table that you share with other diners. The pizza was very good. We ordered two but could have split one. 1 cheese, 1 mushroom, onion & ham 2 diet cokes cost 9,800 CLP costs $21 USD.
Baguales

is the local and only brewery in the area. It is co-owned by a Chilean couple and an American. A Jersey boy runs the restaurant and gave us the five-second tour of the brewery. The beer was good and they serve food but unfortunately we didn't have a chance to eat here, we just went for drinks. It has the feel of a local pub.
The best place to drop into when you are cold and in need of a hot chocolate is

Pategonia Dulce.

The menu has at least 10 types of hot chocolate to choose. It is a cute place that also makes homemade cakes, cookies and candy. If you have a sweet tooth this your place.
SELF-DRIVE/ TORRES DEL PAINE PARK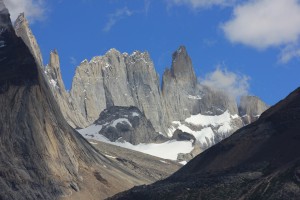 I had a hard time getting a read on how to visit the park (TDP) without being on a tour. So I hope to answer some questions that I had. The hotels "outside" the park are not in a town. Unlike Kruger or other parks there's not much in

Rio Serano.

There is no town, a couple of hotels. Make sure you get gas, water, snacks and other supplies in PN before you head to the park.
There is a

"new road"

which is a straighter shot to the park then the original road. This new road is gravel. We were fine driving it in our tiny Toyota. We were going to do a day trip and in hindsight I was extremely thankful that I made a last minute change to leave our PA hotel in hope to finding accommodations once we were at the park. The two-hour drive to the entrance of the park was not difficult but it was exhausting.
At the park's

administration office

you pay the fee for the park. It was 18,000 CLP for 3 days. With the free map you will easily find the roads and places I list below. From here to Lago Grey was 30 minutes on a straight flat road.
LAGO GREY: In this area of TDP there is a black beach on the bank of the lake where you can take a boat to see the glaciers. Thanks to Booking.com we got a great price at

Hotel Lago Grey.

The hotel is deceiving when you arrive at the property, it doesn't look like much. Once you enter the lobby the views are breathtaking. I loved this hotel. We paid $294 USD (nothing is inexpensive in the park, this was a deal) for a superior room with breakfast. This room had a big ceiling to floor window looking out at the snowcapped peaks, lake and an iceberg that seemed to be placed in the perfect location to add to the ambience. The staff was extremely nice and helpful. There isn't a store in the hotel or nearby so bring what you may need. The restaurant has a fixed menu for lunch and dinner. They offer a fixed 4-course meal for about $52 per person but you don't have to order the entire menu, you can order a few things. For example one night we had 2 soups /2 main course / 2 bottled waters / 1 glass of wind for 28,000 CLP $63USD.  I highly recommend this place.
The main attraction is the lake and seeing the glaciers. In the hotel you can book the

Navegacion Grey boat tour

. It is 45,00 CLP or $94.50 USD. It is an easy 15-minute walk on the beach to the dock; the boat trip is 3 hours long. You get close to the glaciers and they offer the traditional whiskey chilled with ice from the glacier, or so they say.
There aren't many other things to do here, there is one flat trail you can hike to the beach but one night or at most two is sufficient. It is a beautiful relaxing place to veg if that is what you are looking for.
From Largo Grey we drove to Hotel Torres. On the drive about 45 minutes down the road at

Camping Pehoe

there is a well-stocked store and a restaurant. The drive is scenic with guanacas on the hilltops, snow capped mountains and lakes so clear they are filled with mirror images of the landscape. There are plenty of lockouts to stop and take in the scenery.
The closest place to stay for those wanting to hike to the base of the towers/ torres is

Hotel Torres

and the campsite next to it. Rooms here are very basic and loud but you are paying for the location. There are several nice trails around the hotel. They have a stable and offer horseback riding. There is a bar that has good sandwiches; 1 steak & cheese, 1 fry & 2 diet soda cost 16,300 CLP. The dinning room meals are buffet style. There is a hotel store and another kiosk selling camping goods and food in the parking lot. On a clear day if you walk to the campsite next to the hotel you can get a good glimpse of the torres. I highly recommend checking out the stars while here. Again we snagged a booking.com deal and paid $227 USD for a "superior" room. There was nothing to note about the room it was small, basic but had a queen bed. It is a large hotel and feels that way.
On our way back to Puerto Natales we stopped to hike Mirador Cuernos at

Salto

Grande

. This is a nice and easy hike. After checking out the waterfall, which is close to the parking lot, you have the option to take an easy 2-hour round-trip hike to the Cuernos. There is a cafeteria at this location.
##