Click the photo for my CNN.Com story on a driving tour of some US Civil Rights sites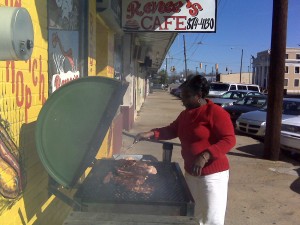 Hotels: (Jan 2009)
There are plenty to choose from at all price ranges. One must stay if you make it to Selma,AL. It's a great town to walk around. I really liked the St. James Hotel. The hotel has so much character. It is one of the only old River Hotels still opened. It has been restored and has wireless internet. Easy to walk around downtown Selma. A quaint small town.  Cost including tax $118
Another small town I enjoyed was Oxford, MS. Downtown Oxford Inn and Suites. Walking distance to the square where you will find plenty of places to eat and drink. Cost including tax $140.00
MEMPHIS, TN:
BB King's: I was told to eat here by my friend Kay Jones, It would have seemed to touristy for me to even think of eating in. We went and had wings, and ribs. Food was really good! Located, well where else but world famous Beale Street.
OXFORD, MS:
BBB: Stands for Big Bad Breakfast. The menu features mainly local ingredients bought in the area. Strong coffee, homemade jam and all around good eats. 719 N Lamar Blvd.
Ajax: On the cute square in Oxford. It's more like a diner. Home cooking at its best. Fried pickles, turkey, pork chops are a few things on the menu. Nothing fancy but large portions of comfort food.
Jubilee: College bar also on square. Dogs welcomed.
MISC: William Faulkner house is opened to tour. It's a few blocks from the square and worth taking a walk around.
Selma, AL:
Towns Family Restaurant: No menu, just see what they are cooking when you get there. Fried chicken is usually an option. Sweet tea is perfect! Located on Washington Street 2 blocks from the River. Plenty of tables for a big group.
Renee's Cafe: They will grill you up anything you want. Burgers are great but the smell of the ribs cooking out front is what brought me to this place. Small counter to eat but on a nice day you can always do take out. Also on Washington on block from the river.