See the Costa Rica Overview page for generic information.
My Routes:
By Car: SJO – Arenal (La Fortuna) – Dominical – Playa Hermosa (Jaco area) – Manuel Antonio – SJO: I drove this in a economy stick shift car. The roads were all well paved but can be narrow on mountain curves.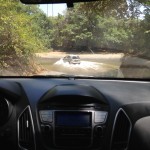 By Car: Tamarindo – Nasora – Montezuma – Santa Teresa: I closed my eyes as my friend Jesse drove these dirt and gravel mountain roads that at times required crossing through a bit of water.
By Boat: Montezuma – Jaco (Playa Hermosa)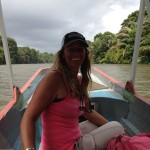 By Bus/Boat: Bocas Del Torro (Panama) – Puerto Viejo – Tortuguero – Arenal (La Fortuna) – Nicaragua. This route was easy until the Arenal to Nicaragua border trip. I wrote a detailed how to at the end of this page.
La Fortuna
This is the town to visit if you want to see the Arenal Volcano. It is a quaint tourist place with shops and restaurants situated around the square. On a clear day you can see the Volcano towering over the landscape from just about anywhere in the area.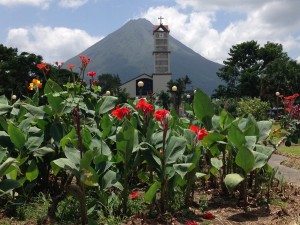 Hotels:  We stayed at the Hotel Bosco for depending on when you are there it costs $60 -$88 with breakfast. It is a nice place to relax. The rooms are small but they have a swimming pool with a view of the volcano, secure parking for the car and it's just a couple blocks from the square.
When I passed through again on my way to Nicaragua I stayed at Buho Cabinas for $20 a night. Small but basically clean with hot water & Wi-Fi. It's a couple streets behind the church & one street behind the Multi Hogar store. There's a sign pointing to Cabinas Wally.
Things to do: Hike Arenal Volcano Park it's a $10 entrance fee. There are a few trails and the main one is an easy hike. You will likely see sloths, birds and other Costa Rican critters. It's pretty and worth your time.
There's a few places you can go to enjoy the hot springs. One is really popular and offers pricey day passes for about $50 another Baldi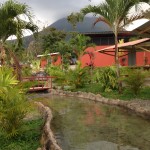 charges about $30. We went to Termalitas Del Arenal for $6 and as I posted at the time it was the best $6 bucks I spent all trip. They are open from 10am – 10pm and they have 5 pools with perfect volcano views. (on clear days) We were the only ones there when we went around sunset. They don't sell food or beverages but they have grills and picnic tables so bring your own grub. The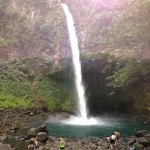 grounds are beautifully manicured. I really enjoyed this place.
The La Fortuna Waterfall was a nice way to spend a hot afternoon. It requires a climb down (then up) steep stairs. The stairs are rocky and I would have worn shoes other than flip-flops if I had that option. Don't forget your swimsuit! I think it cost $10pp to enter.
Food: The steakhouse Don Rufino was one of the best I have been to all trip. It is NOT cheap but the food is great.
Since I just spent hours at a table at My Coffee, writing this page, I felt the need to mention this restaurant. I had a great cup of coffee and a plate of fresh fruit. The kind server did not seem to be bothered when I camped out at the table for hours!
For a good inexpensive, made to order, empanada check out Soda Ara.
 Playa Hermosa  (Jaco)
It is much quieter than Jaco with enough restaurants/bars making it a good place to stay. The beach is black. The surf is excellent. It costs about $10 for a cab to Jaco where there are numerous surf shops, restaurants, clubs and hotels.

Hotel: I always stay at the Backyard Hotel, it's a friend's business and he does it right. Tell Nick I sent you! It is clean and comfortable. The hotel has a pool and it is on the beach. It is the perfect place to sit and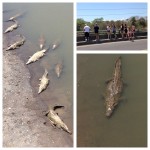 watch the surfers. The rooms go for a $100 plus a night and include a full breakfast, beach towels, Wi-Fi and balconies.  Perfect place to be especially on Saturdays when the crowds come to the beach in front to watch the surf contest.
Things to do:  Saturday 4p even if you aren't staying at the Backyard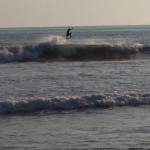 you need to go to the surf contest held on the beach in front of the bar. The surfers put on a great show as the sun sets behind them. After pop in the bar for some live music!
Surf/Zip-line/It's easy to get to Manuel Antonio or Montezuma from here.
Food: You can't miss all the signs for the Taco Bar in Jaco. Not only are they great at marketing but the food won't disappoint. It is inexpensive at $7 a fish, beef or chicken taco because you also have access to the salad bar.
Dominical
A tiny surf town 27 miles south of Quepos (Manuel Antonio). The streets aren't paved so it has more of a rustic feel to the town. My niece liked it here so much she has vowed to return. It was a bit too small for me. I like places small enough to feel comfortable but big enough to hide if I choose to.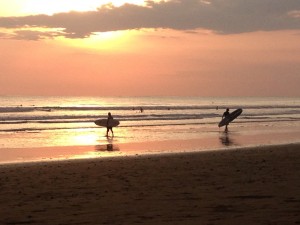 Things to do: Surfboards can be rented for $10 a day & yoga is an option too.  (as in most surf towns)
Hotel: We stayed at Domilocos $60. A small buffet breakfast was included. It was fine and served its purpose for a night. There's parking and it's just up from the beach.
Quepos & Manuel Antonio
Quepos is the city you have to pass through on the way to Manuel Antonio. Lots of cars driving on narrow streets, plenty of shops. If going to Manuel Antonio I would stay in MA. That said it is worth stopping here if only for a meal at the Italian deli (see food)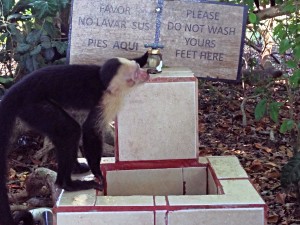 Hotels:  Arriving late in the day I was worried about rooms so I booked the Best Western on-line for $70 a night. (I hate pre-booking places unless arriving after dark) The front desk staff was excellent even when they lost water for hours and couldn't find the owner to figure out what to do. We ended up checking out. The positives, aside from the staff, are that it has secure parking, which is not easy in the middle of Quepos, and a nice pool. The standard room with two beds was small dingy & didn't smell great. I was a bit bummed I expected BW O &O standards but when we checked out because of the problem with the water we went up and down the mountain about 20 minutes to Manuel Antonio where we were much happier.
Manuel Antonio Hotel:  It was about $87 a night for a double & breakfast was not included. (most places include breakfast & all have free Wi-Fi) It is where the road dead ends, you can't miss it. The location is great because it is right across from the beach and around the corner from the park's entrance.
Things to do: Visit Manuel Antonio National Park which has 3 spectacular beaches inside. (The park is closed on Mondays)  It is $10pp to enter they have showers. The park is packed with tourists but the trails away from the main beach are more peaceful. You will see sloths, frogs, raccoons, iguanas, lizards. The monkeys hang out at the park's main beach, be careful we saw one steal a tourists plastic bag of fruit.
When we went there were so many people and there's no chairs or surfboards so we just hiked the park then went to the public beach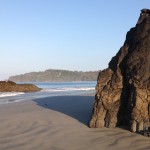 down the street. The hike was ok. The crowds really turn me off.  (Warning: Don't be scammed by the folks at the bottom of the mountain road who dress like park rangers, they stand in the middle of the street and whistle at you to stop. They will lie and say you can't go any farther because they want to charge you $4 to park at their lot. Just drive right by them you will know when the road ends.)
On the public beach the guys renting surfboards $10 in front of the
Restaurant Sol are really nice and for another 10 bucks you can get 2 chairs and an umbrella. The beach here is beautiful but crowded.
Food:  A couple blocks from the dead end is the Marlin restaurant. They have fresh fish with potatoes (that weren't cooked) yet the meal overall was better than expected. There's a Thai place on the same block but we didn't eat there.
In Quepos:  L'Angelo  is a small Italian restaurant with a deli it is one block up from the BW. The staff is very cold but the good atmosphere and food make it worth stopping in for a meal or grabbing a sandwich to take to the beach.
Tamarindo 
As soon as I stepped foot in town I was reminded of Ft. Lauderdale Beach. It's a place where families can comfortably visit with their children. (not all towns are a good fit for kids) The waves here make it a great place to learn how to surf. The beach is long, nice and offers amazing sunsets. The town is full of good restaurants, bars and shops. Definitely a tourist town but also a place where there's a ladies night 7 days a week for those who want a bit of nightlife. Every night a different club has a promotion and it seems the entire single population and kid-less couples in town will find it.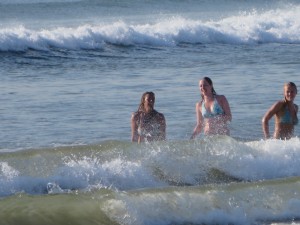 Transportation:  Grayline from SJO was $49 The mini-bus stops a few times but it is comfortable & they will pick you up at your hotel. (or take the airport shuttle to the Hampton Inn and have them get you there) Reservations were easy & fast via email.
Hotel: The Coral Surf Hostel is where I stayed. This hostel a block from the beach and I really enjoyed it. The owner Jeff is an American and his employees do a great job at making sure their guests are comfortable.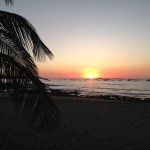 I can't remember how much I paid but I think for a private it was about $35 a night. (shared bath but really clean, fan in room) Dorms I believe were $10.
Food: Argentina restaurant Patagonia had a special $18 for a huge piece of mahi mahi covered in cheese mixed with spinach and sides of veggies and potatoes. Fish was good but as the price indicates it is not cheap.
The only real place, I found in my 6 days there, for breakfast where you can order bagels and croissants is Buon Appetito for about $8 you can get coffee, fruit smoothie and a ham and cheese croissant.
The burritos at FT's are great and will cost about $7. You build your own. The staff there is really nice. Highly recommend it for a meal. They also have rooms but I didn't check them out.
For pizza we had a good pie at La Baula. Pizza is the only thing on their menu.
Bars/Clubs: There are plenty and you will find out by either a flyer or word of mouth on which ones have live music and a ladies night. 11pm is when people start to go out. For example the Monkey bar is huge and had 3 Djs on one night. Cover is usually about $4.
Nasora
The beach was really pretty and it was filled with swimmers and surfers. We didn't spend enough time here to really form an opinion other than restaurants close early in this town. It appeared to be a nice place for families and couples.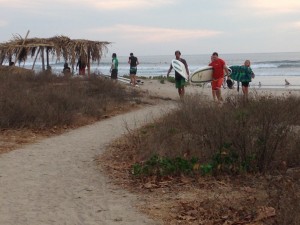 Harbor Reef Hotel Manager is really nice and friendly. He's a Jersey boy but for the money I expected more. The rooms were expensive at almost $200 and that was a discounted walk-in rate, for 2 rooms and a bathroom. The bar charged $10 for a vodka soda. So check the prices before you order. Breakfast was included and it was good but at 8am I could do without the music blasting.
Santa Teresa
One of my favorite beach towns in Costa Rica. (the other is Puerto Viejo but it has a very different vibe). I really liked this beautiful long beach. Restaurants are plentiful and you can listen to live music with a drink in your hand and your toes in the sand!  It's similar to Tamarindo, also a place you can comfortably bring children, with a good selection of shops, restaurants and bars but it doesn't have the tourist feel. It's a surf town where those in the streets are wearing baggies and there's a surf apparel shop on every corner. The waves tend to get big here but there are places to rent boards and get lessons. I didn't find a spot to rent beach chairs but the sand here is white and soft.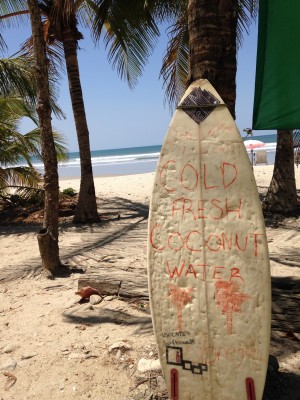 Transportation: Taxis here are expensive! Averaging $10 from the outskirts into the main area of town. It may be worth renting a bicycle or quad.  See below Zuma tours for transfers to or from Jaco.
Hotel: Please tell Julia at the Blue Surf Sanctuary I said hello! It is a wonderful little oasis. It's clean, well decorated and it is obvious that the owner (Julia's sister) takes pride in the place! There are 4 one room casitas with balconies and daybeds hanging underneath. There's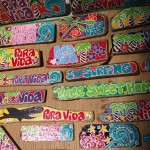 an open-air kitchen with a refrigerator and each room has a plastic bin to but their items in. There's a small grocery store walking distance. The dipping pool is perfect especially because it is shaded in the afternoon. They have surf lessons and surfboards for rent ($15) The ocean is a few doors down and in front of it is RocaMar (That's the landmark for a taxi when trying to find this hotel) It is not in town but it was so pleasant having to take taxis or dive when going out was not a problem.
Things to do: Surf, surf surf and surf some more!! And as in other places there's all types of tours.
Food: Beachfront restaurant Rocomar is not fancy, hammocks, tree stumps as chairs, daybed etc. The food is awesome and it's a great place to grab a drink at sunset. About $15 for a huge piece of fish with potatoes & greens. Service was great, atmosphere is cool and food was top notch. (just down from the hotel)
The Bakery: we liked it so much we ate there twice. Sandwiches are made on homemade breads. Ingredients are fresh and they pay great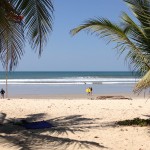 attention to detail. First class restaurant & bakery. (as with the hotel operated by a female, I think there may be a theme here)
When they have live music go for a meal on the beach at Habanero. Warning they like squeezing lemons into every drink. They also have rooms, I didn't see the inside of them but they looked nice from outside.
Montezuma 
We only spent a night in this town. It is a few blocks long and the night we stayed there it was pretty quiet. Honestly I didn't give it enough of a chance to give an opinion but you can get here via boat from Jaco. (see below Zuma Tours)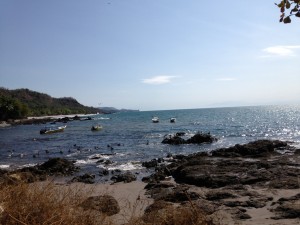 Hotel: We paid too much for a room with too many ants and they were all over the beds at El Sano Banano. Staff was nice & helpful. The breakfast that comes with the room was the best one yet, and yes ant free. So I guess I am saying stay elsewhere and go there for breakfast and/or the movie night.
Things to do: You can take a day trip there from Santa Teresa for the waterfalls or a canopy tour. The more adventurous folks can rent an ATV & take the dusty winding mountain road or you can just book a tour. Our hotel's restaurant offers a movie night on a big screen.
Transportation: The guys in the Montezuma's office of Zuma Tours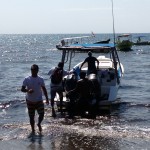 were great. Very friendly and helpful! $50 transport by taxi from Santa Teresa to Montezuma (about a half hour) then a boat straight across (1 hour) and into the Jaco area. Once on the beach a minivan will transport you to the center of Jaco or just pay the guy $6 and he will take you to Playa Hermosa! (Backyard Hotel)
Puerto Viejo
This town is not for everyone but it was definitely for me!! It is my other favorite beach town in Costa Rica. There's not an American chain to be found, no large buildings littering the view and when looking at the shore from the ocean it's all jungle. It's the perfect place to bike around. You can be on the beach while enjoying the surrounding nature. It was a very hard place to leave. (It's a party town that I don't think is a great place for children) It is easy to book transport from here to Tortuguero.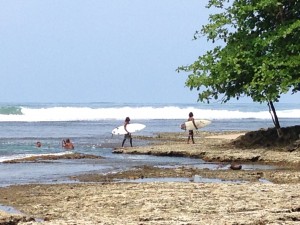 Hotel: I liked the Lizard King Resort hotel and the town so much that I stayed 10 nights! 5 star customer service in a 3 star hotel. I would stay here again, I was sad to leave. It is a family run hotel and they go out of their way to make sure they leave a good impression. (Thank you for the warm loaf of bread you sent me off with 5 hours into my travels I was even more appreciative!)  When I walked in to inquire about prices they had a special going on, the most basic room for $50 a night.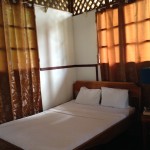 This was perfect. I noticed the rooms are outfitted differently some have air conditioning, kitchens, refrigerators and flat screen TVs. The rooms were very basic wood furniture and the fan was enough for my needs. They have a pool and it's a block or two from the main part of town. Breakfast is included as is WIFI. If you stay here there's a good deck upstairs and it's a great to sit and watch the people as they come and go from town. For Costa Rica standards and prices it doesn't get much better than the Lizard King Resort.
For backpackers Rocking J's hammock hostel is the place to go. Just Google it and you can read all about it this place where the party never stops.
Things to do: For $5 grab a bicycle at either the hotel or any number of places in town. It's a great deal and it is so easy to check out the area.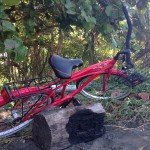 You can ride to the Chocolate Tour at Om Hostel and the Jaguar Rescue Center about 20 minutes down the road toward Manzanillo.
Just Google Salsa Brava and you can read all about this challenging and dangerous wave. It's in front of the beach that's in town to the right of Lazy Mon when looking at the water. Or you can just keep an eye out for the surfers as they often come by to check the waves here! See food below for a great place to eat and sit while enjoying the surfers.
You can walk or take about a 10 minute bike ride to Playa Cocles (it's just past Rocking J's Hostel) It's a nice beach where there are always surfers catching the beach break waves.
One day I rode my bike a few clicks down to where the road ends in Manzanillo, the beach was nice and it's a quaint place to grab lunch.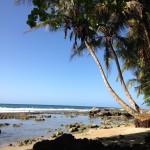 Based on all my beach hopping in the area Punta Uva is the most scenic and a good place to swim. It's after Playa Chiquita  (It isn't good for swimming because too many rocks yet the isolation, shade and ruggedness had me stopping here often) Back to Punta Uva, it is after Playa Chiquita but before Manzanillo, you will see a wood sign in the road where you will need to turn.
If you go to Manzanillo please stop at the coconut stand. You can't miss it, it's sitting on a stretch of road with nothing else and it will be on your right hand side. Grab a pipa frio (cold coconut water) from the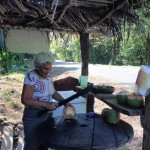 nice woman selling them. As I was enjoying my $1 coconut I heard howling of a bunch of monkeys up a tree. The kind lady who sold me the coconut brought me onto her property for a better view.
This is the town where I saw the sloth climbing across the power-line. It was an incredible sight. In this area keep your head up you never know what you will see.
Cahuita National Park: It's about 20 minutes from town and you can take the public bus. I think it was $1.50 or something like that. You can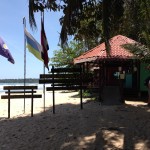 buy the ticket in the bus office then walk across the street because it will pick you up in front of the stand with the Coca-Cola awning. The bus leaves about every half hour.
You can only snorkel in the park with a guide so I hired a boat. It was $25 for my private boat where the captain supplied fresh fruit between my dips in the water. The coral was healthy there was a lot of Elk Coral, a few reef fish and a sting ray. From there I had the boat drop me off at the point in the park and I took a leisurely stroll, about 45 minutes, through the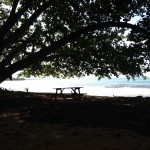 park and back into town.  At one point I sat in the shade on the beach for a minute when a guy walking by told me to look up, I was surrounded by trees filled with monkeys.  I saw a few raccoons, sloths, cool colorful butterflies and a few other critters. The fee for the park is by donation and the office to enter is on the beach in town. Leaving the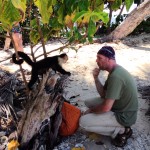 bus station walk into town and when you see water a block or two in front of you hang a right, Playa Blanca and the park entrance will be down that street.
Make sure you explore the town. There are some good shops and restaurants off the main drag. It is pleasant place to walk around. People are helpful and nice.
There are a few spas here and I went to Pure Jungle Spa. It is a very nice and relaxing place. In fact a parrot decided to stop in for a look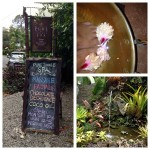 around. The staff was very friendly and offered lots of great tips on things to do in the area. I had a pedicure, manicure and a chocolate massage that cost $65 for the hour. The massage was good but I love chocolate so much that I couldn't relax, the entire time I just wanted to find a spoon and eat the mixture that was being applied to my body. My skin did feel better afterwards.
Food/Drinks:  There are so many places in all different price ranges but below are some that I frequented.
Every night The Lazy Mon beach bar is where I would watch sunset. You can't miss it it's across from the small supermarket. There's live music every day at 5pm. Please if you go and you meet a Tico at the bar drinking orange juice his name is Manuel, give him a hug from me!! Beers are really cold & bartenders are nice. One of the best waiters during my travels was from here and I am embarrassed I can't remember his name but he was from the Carolinas.
I am not sure why I was often the only person sitting at the Salsa Bravo Restaurant when it wasn't reggae night. It is a perfect spot on the beach and in front of Costa Rica's famous salsa bravo surf spot. The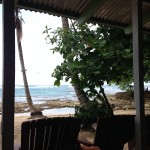 food is good, the setting is perfect either in the day curled up in a chair reading a book while watching the surfers take to the water or at night to chill and look at the stars.
At the new bar Hot Rocks they usually have awesome live music, a lot of old rock and roll. It's on the corner of the main road you won't be able to miss it.
If it's fast food you are after check out Pizza Boruka for a $2 slice. It's good! You will find it next to Soda Flip Flops. They don't serve liquor so grab a beer at the market next door then sit at one of the high-tops and meet the locals.
Transportation: From Bocas del Toro, Panama. I used Caribe tours and they walked (literally) us through the border crossing. You take a boat for about 30 minutes then a bus to the border for Panama's immigration office (I think it's in customs office but you have to pay $3) after you cross a bridge by foot into Costa Rica (obviously check in with immigration here) then you get on a bus for another hour or so. (A guide will walk you through the entire process if you aren't using public buses) The trip takes about 3 hours total and costs about $25. And NO you do NOT need to show a flight or bus out of Costa Rica when you cross the border by land BUT you do when you fly into the country.
Departing for Tortuguero: You can either take a taxi $25 per person for 2 people or the local bus to Moin. This is where you will catch the boat for the 4 hour ride up the river and canals to this northern town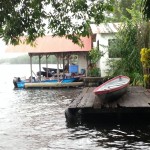 on the Caribbean coast. The boat costs $40 per person and the captain will point out wildlife as he sees it on the way. Very professional. (I mention that because leaving was not!)
Tortuguero: 
A very small village with dirt roads. The village is a very nice place to walk around and after you spend a few minutes doing that you can just sit on a dock or the beach and chill. The river is on one side and the ocean with a black beach is on the other. It's about 3 blocks wide. All activities revolve around the national park and the wildlife and not the beach. You won't see much, if any, surfers here. If you are a birder this is your place and if not a couple days should be enough time to enjoy this unique part of Costa Rica. Bring a raincoat if you don't normally travel with one.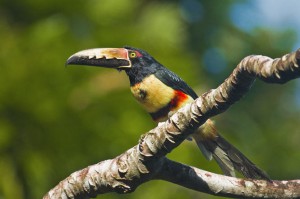 Hotel: Another place I can highly recommend is Casa Marbella it is $40 a night. There's nothing to the room it is basic and with a fan but it was clean. There's a community Microwave & refrigerator available for guests to use. The breakfast was awesome and the sitting area on the dock was perfect. (A great place to read a book or as I did write a paper for school.) The dock is what made me like this place so much!
Things to do:  You must take a tour of the National Park. The hotel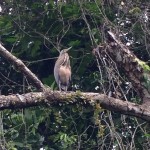 offers the boat tour for $20 plus another $10 for the park entrance fee. The tour leaves from their dock in the morning and lasts about 3hours. It was worth it, I saw my first toucans, three species of them, and they were beautiful. The birds here are so pretty and unique! The guide also pointed out the usual monkeys, lizards, a turtle and other Costa Rican wildlife.
Food: A fellow traveler from Spain was in shock at how good the sangria was at Buddha Café. The atmosphere is nice and it is very chic for this town but as usual prices are high So get there for happy hour where they offer sangria two for one. The food was good pasta & pizza but I was a bit disappointed with the Uruguayan sandwich. Yeah I know I wasn't in Uruguay when I ordered it.
In front of the disco tech where the Tortuguero sign is there's a fence with a path leading to a disco. (you may hear it before you see it) There's a nice older woman cooking in the open-air kitchen. She is kind sweet and makes good fried chicken and other food. I would grab a beer inside the dark dreary disco & bring it outside to drink & chat with her while she worked.
Crossing the Border into Nicaragua:  From La Fortuna, Costa Rica into Nicaragua. Take the 630am bus for 700 colones ($1.25) from the Mega Supermarket in La Fortuna about 15 minutes to EL Tanque. Go directing across the street and on the opposite corner (in front of the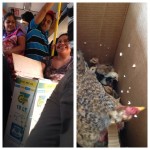 soda & bakery) The bus to Penas Blancas (name of the border town) will cost about 3,500 colones ( $7) The bus will stop once or twice for about 10 minutes for bathroom breaks but try to stay on it because when leaving it will likely to be standing room only.
Crossing the border is crazy. There are no banks or ATM but many people exchanging colones (NOT EUROS as 2 desperate Travelers found out) Go to the building to the right where the semis are parked and pay 4000 colones at a bus at the end of the building.
Then go to immigration, which is across the street on the far side of the road, yes you need to fill out a form. Next walk about 4 blocks across the border into Nica. There is a bank on this side which will exchange most currencies. The immigration office is on the right where you will see buses. People will try to sell you the immigration form for 1 dollar but they are free at the window. The cost to enter Nicaragua is 12 dollars.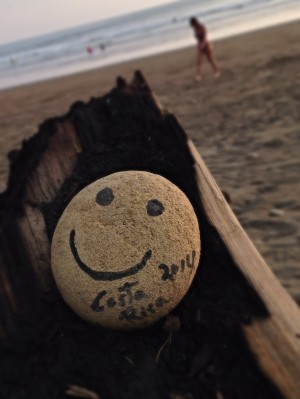 Pura Vida!!