June 2014: I spent most of my time exploring Yogyakarta and Komodo National Park. Spending only a couple of nights in Bali and Jakarta. This country is so big I saw just a speck of what it has to offer.
TIPS
-$1 USD = 11,000 RP
-I write prices in dollars but you will use local currency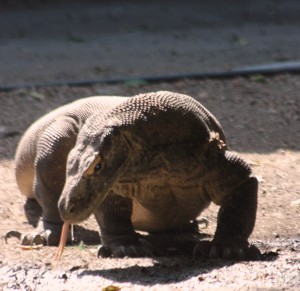 good luck with all the zeros!
-DONT drink the water! Try not to use ice & brush your teeth with bottled water
-First thing I noticed was hotels & food are inexpensive
-A country credit card is needed for national plane tickets so use the hotel or a travel agent to book them for you.
– It's tough to find anything but beer in Yogyakarta restaurants so bring a bottle if you drink wine or alcohol
-food is overall cheap, but alcohol is expensive
TRAIN: It's so much nicer than expected the executive class has AC and big seats. There's a waitress that takes food and drink orders. Bring tissues & maybe sanitizer the bathroom is a hole in the floor.
JAKARTA
A big city where traffic can be a nightmare.
HOTEL: I stayed at the J.W. Marriott on points but the rate on line was about $130. It's a nice place with staff that remembers your name. It's walking distance to a mall & a high-end food market.
Jimmy'z:  A pub near the hotel with friendly staff, expats at the bar and a fun place to drink.
YOGYAKARTA
Often referred to as the cultural center of Java
TRAIN TO YOGYAKATA:  $360,000 RP (about $34) Executive class from Jakarta's Gambir to Yogyakata which is a 7.5 hour trip. From the train station I would get in a Taxi (not a bike) to the hotel listed below it's about $5.
Gallery Prawirotaman Hotel: with tax $65 a night for deluxe room & worth every penny. The hotel was just built so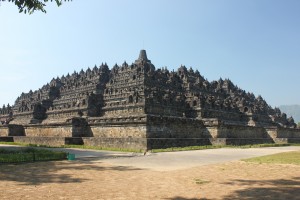 everything is clean & modern. A very nice pool area, fast internet & a huge breakfast buffet is include. You can walk to Sultan Palace & many restaurants. Great location, nice rooms & friendly staff.
LOCAL BUS: I used Trans Joga.  The bus stops are enclosed glass structures making them obvious and the people who work there are very helpful.
SITES:  Hindu temples just outside the city, Prambanan. $18pp to get in. Private car will cost up to $27 to get there but the bus is 6000Rp (50 cents) If you don't hire a guide go to the museum to see the movie before entering walking around the Temples.
Yogyakarta bus to Prambanan if in Prawirotaman area take the 3A at Trans Joga stop on JL Kol. Sugiono Street (just across the street from the museum & about a block down.) You will need to transfer but just tell the person hollering out the stops you're going to Prambanan & they will direct you to the right bus. They were very helpful!
Sultan's Palace: We walked from our hotel. The best thing about this visit is seeing the Javanese traditional dancers so make sure you go when they are performing. It's $1.25 to get in and .40 for the photo permit.
If you can find the nearby Water Castle, there are signs, it's behind the Sultan Palace, visit it. There's a cool neighborhood  (which you will get lost in) of back alleys, without traffic, with some impressive artist shops.
TOURS: Just up the alley shortcut from the hotel to the right is ViaVia. A company becoming hot on the backpacker's trail, they are popping up all over the world. They're socially responsible, for example for every motorized tour booked they plant a tree. They offer unique tours at reasonable prices. They were great for booking plane tickets & tours.
BORBODUR TEMPLE: The largest Buddhist temple in the world. It is a must! Takes over an hour to get to. Booked transport with ViaVia $40 but split between 3 people & can take up to 5 in a clean comfortable SUV.  At the tourist entrance free water, tea or coffee. Cost is $23 With a student Id it is $11 Guide for $7
FOOD  (all on the block Via Via is on)
Aglioo  pasta & pizza $4 for plate of pasta. Pizza here is good & they have take out
Easy Goin' food was excellent I loved the chicken/cheese quesadilla & the chicken satay was simple but good. A beer & a coke the cost was $11
Hani's Restaurant & Bakery $18 local dish Rengang Padang (spiced beef, rice salad , soup, croquettes 1 soda 1 big Bintang beer. The drinks are the pricey items. Highly recommend.
FLIGHTS:  Yogyakarta to Bali $50 if you don't want to continue via train.
BALI
Surfing, Diving, Sightseeing and Sunning
Another Hotel we used points to stay in. Marriott Courtyard Nusa Dua  Excellent service, excellent staff and extremely clean.  I saw it online for about $115. They have a nice big pool but I recommend going to the beach. Their beach club was perfect you can take the free shuttle or walk about 15 minutes to get there. It's on a big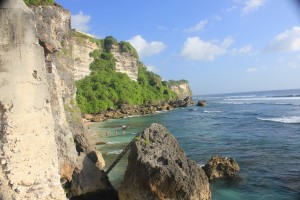 pretty beach with comfortable chairs, wifi & awesome teriyaki chicken sandwiches for 6 bucks. There are also surfboard rentals on the beach. If you walk out of the gate that leads into the resort area there's a place to drop laundry ($7 a large bag) and here you will find many local restaurants and shops but without the hustle and bustle of other tourist areas.
Tapas Restaurant in Bale Hotel. Not cheap for this country but the food & service are good! And they have a large selection from local bites to typical Italian tapas. If you like tapas it's a great place for a meal.
Monday is Stockyard Steak Night at Big Fish Bar & Grill in the Stones Hotel. It is worth eating here if you are near Legian Bali. One of the best steaks I ever had for about $23 that includes 2 sides and a choice of sauce.
TOURS We found a taxi on the street and paid $33 including tip for a driver that took us around to  the beaches & temple on the southern peninsula for 5 hours.
Ulu Watu Some of the largest sets in Bali & a great place to watch the surfers. Plenty of restaurants/bars/few shops down the cliff toward the speck of sand at the bottom. There's one place that rents lounge chairs for $3.50 an hour. Water is too rough to swim here.
Patang Patang If you're not out surfing the break here you will have to share this small beach with a lot of other people and a few food & souvenir stalls. The nice thing is it's calm enough to swim and the surf is good.
Temple Uluwatu Is right near beach.  Old Hindu temple.  Famous for monkeys running around grounds (watch your hat and sunglasses), sunset and a traditional dance for an extra $16pp  starts at 6pm
Nusa Dua Beach: A huge beach with water that is good for swimming & people learning to surf
PLANE: Bali to Labuan Bajo island of Flores $125pp.
LABUAN BAJO, FLORES
Gateway to Komodo National Park.The town of Labuan Bajo isn't much. A few dirty blocks with restaurants & dive shops.  Some good bars and places to eat. That's why you do daytrips. The diving is unbelievable.
GETTING THERE:  The ferry is a few dollars and takes all day. Caution it wasn't operating when we were there & no one knew why. Leaving budget travelers with no way to get off the island.  If you can afford it – fly (Wings Air $200-250 RT)
Komodo National Park An amazing place to dive! There are incredible reefs, large schools of different types of fish, sharks, unique tiny critters and it would be rare not to see a turtle or several on every dive. (I saw 15 Manta Rays on one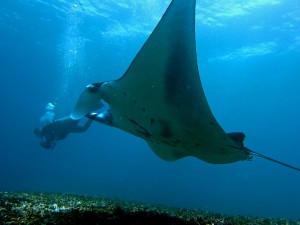 dive and that was only one of many dive highlights.) The currents can be strong so PLEASE make sure you follow your DM and listen closely to the briefings.
I love the dive operation I went with! Komodo Divers was fantastic. 1.35 mill or about $125 for 3 tank dive, breakfast, lunch & snacksWhy do I recommend them:
1. Safety: The instructors were very knowledgeable about currents & critters. They gave thorough briefings and repeatedly checked on clients while in the water, regardless of experience level. TY Dorien & Willy for making me feel safe so I could enjoy the views!
2.  Friendly: We walked in looking for another place with a similar name & Dorien was so helpful he is the reason I decided to dive with them
3. Boat Crew: They work so hard and they are there for the passengers' every need from getting out of the water to making a hot tea. Including the 2 DMs in training!
4. Boat: It's not a fancy speedboat but it's great to spend surface time sunning on the mattresses on the roof or on the comfy couches below
Dragons:  It would just be wrong to visit Komodo and not see these large lizards. Day-trips can be arranged from anywhere in town. It will cost about $45  most trips include snorkeling and lunch.

FOOD  take the stairs up to Made In Italy. Once in this restaurant you will think you were in another city. It's so nice and professional. Really a standout! Offering homemade pasta & a good wine list. Plan to pay on average  $10 a head without alcohol. (Alcohol in Indonesia is expensive)
HOTELS:
Bingtang Flores Hotel: The grounds are beautiful & they have a nice pool. Rooms are okay clean & western. Pool towels, wifi & breakfast for about $85 Yes really expensive for Indonesia. Especially since this hotel is out of town. I hate that they charge 50,000 (almost $5) for the three minute drive to town. Coming back you can hard bargain for 20,000 ($2) Restaurant had good noodles! They have a dive shop but when I went to inquire the owner ( I asked who he was), doing nothing at the time, made me feel like a bother. That's why we sought out a place in town & I am so thankful we did. See my review of Komodo Divers.
PARADISE:  Komodo Resort on Sebayur Island. A 1st class place with a laid back vibe. They have an office on the main street in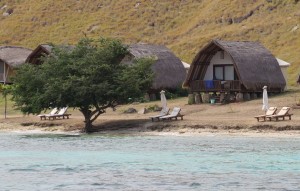 Labuan Bajo. It is only one of two places to stay within the limits of the Komodo National Park. If you can afford it DO NOT miss this place. I loved everything about it and didn't want to leave! (BTW I usually hate all inclusive resorts) It is a 1.5 hour boat ride from the port at Labuan Bajo. The boat ride is included in the cost. The Italian owners and both the local and foreign staff are friendly and fun with a true desire to make your stay great. Each bungalow has comfortable beach chairs and a big porch.  The rooms are clean, spacious with AC and a big western bathroom. Internet is free for 1 hour a day or you can pay 10 Euros for a full day. It wasn't a bad thing, it kept me present during my time on this beautiful island. The food is too good and they serve way too much (3 course dinner plus dessert) it's the Italian way. Try a Lexi a drink made with the local alcohol that tastes like a mojito. (Alcohol and soft drinks are extra)  The house reef is stunning so make sure you spend some time checking it out! The dive shop has a wonderful DM ( Fredrica please tell her and Elena in the office I said hello) The dive sites are much closer than going from the mainland and they are magnificent.