Dominican Republic: Las Terrenas 2011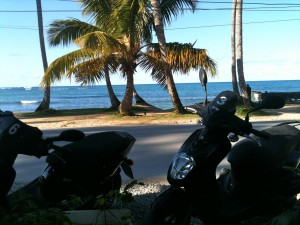 I have been to the DR many times, it's always my backup plan when I can't decide where to go or I want to take a quick trip. In the early days I've hitchhiked around the country, in recent times I've have driven their half of Hispanola.Since I only took notes on my most recent trip I will write about Las Terrenas and at the bottom I will add some random memories from other cities in the DR.
Las Terrenas:
We flew into Santo Domingo and had a cab take us across the island which was very expensive $200 for the 2 hour drive.  But they just finished a new road so hopefully in the future buses will be an option.
We found a deal on luxurylinks at Balcones del Atlantico and we were upgraded to a 3 bedroom 3 bath condo with a huge kitchen and balcony. This resort is a condo/hotel because of this during the week it is quiet and it livens up during the weekend (when the locals that own condos come for a visit) There are 2 pool and a wonderful beach area where you can play soccer and snorkel. The restaurant here is excellent. The chef is Peruvian and makes an awesome Lomo Saltado!
The resort is a few miles down the beach from town, but we rented mopeds for $20/day so it was an easy trip. The walk is about half hour.
We also drove the mopeds to El Limon Waterfall. My second visit and the second time I had to walk (2 hours) and not take a horse up the waterfall. The hike is a hard, slippery, muddy journey on a path you share with horses and donkeys.  If you take a horse be prepared for a 20 minute walk down to the waterfall pool, there are stairs but they are steep and as you know what goes down….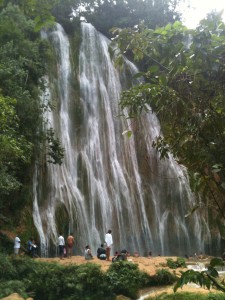 We ventured out one other time when we were there, we went to Playa Bonita. Here is where the surfers go. You can rent a board. The beach isn't very wide so it's not great for sunbathing but the hotels facing the beach seem to all have pools. It's a quiet area but nice to grab a drink at a bar with an ocean view of the surfers.
SAMANA BAY, DR:
The pennisula is laid back with small beach front towns but the main tourist attraction is mating season for humpback whales. This happens from January to March.  There are several tourist trips where you can get close, sometimes too close. to the whales.
CABARETE, DR:
The birthplace of kite surfing and with a constant wind it is perfect for sailing and wind surfing. This town on the northern coast of the DR. The beach is long and white with bars and restaurants where you can put your toes in the sand as you eat. It's a happening spot that is perfect for someone traveling alone or if you like active water sports and a good nightlife. Also a good place during the summer heat because of the nice ocean breeze.