Tips on travel to the

Okavango Delta

below
Click on the elephants to read my story Chasing the Cheetah in Botswana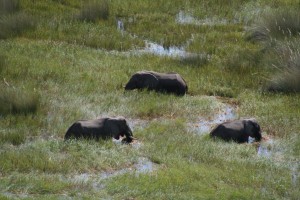 Okavango Delta in Botswana (2009)
Amazing!! Vast and undeveloped with wildlife everywhere. Small planes that land on dirt runways is how you hop from one camp to the next. From the air don't be surprised if you spot giraffes or elephants. I liked it better than Kruger because you are really in the bush. The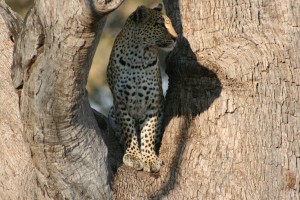 stars are amazing. We saw all four of the big five (no Rhino). Yet there were more hippos here than Kruger. The birds and the animals are abundant. Just stunning. We used Orient Express staying in two different camps for 3 nights each.
Orient Express: rooms are similar at the camps. They have everything you could want or need. Wake up calls come with a knock on the door and a tray of coffee, tea and biscuits. Heavy ponchos that come in very handy to use for game drive. Hot water bottle in your bed for the cold night. A/C and Heat in each "tent." Internet, pool, good food and great staff. Managers go above and beyond to assist the guests. Not stuffy but classy.
Khwai River Lodges: Located near the Moremi Reserve. Game drives are done in a vehicle driving on dirt roads. We spotted our first leopard here, which we were told was a treat, as it had been months since one was spotted. There weren't too many other vehicles on the roads, so it felt more personal. From the main deck you can see elephants, hippos and birds. Each "tent" has a deck with a balcony and chairs.  While having dinner one night an elephant wondered onto the property.  It was the only place we saw lions eating, a buffalo and a hippo. I could have done without witnessing that.
Eagle Island: Water based safari. Your safari is done on a Barge, Motor Boat and Mekoro (dug out canoe).  It's more quiet than the vehicle game drives, the guides aren't radioing each other about what they are spotting. At times you are brought to an island to walk around and see the animals. This is where you will see a lot of huge Crocs, lots of Hippos and beautiful birds. Not as many of the bigger animals as Khwai but enough that will satisfy you.  A visit to the nearby village is an interesting trip, bring some Rand to buy a handmade bracelet or bowl. A Helicopter tour was included and that was worth the ride. Seeing the animals from above and the scenery was breathtaking.