Malapascua:  It is a small island void of any cars. Motorbike or feet are the mode of transportation. There are 2 main beaches that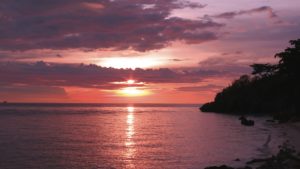 surround the village and the tide will determine where you arrive. In spite of the trash, which the expats (they own most of the dive shops) should really organize a beach and coastline reef clean up, I loved this place. Click here to see why.
June 2016 $1usd= 47php (prices in php are accurate the dollars are not exact amounts)
GETTING THERE: I jumped in a cab from the Cebu Ferry Dock and planned to go to the north bus terminal to grab a bus or a van to Maya, the northern tip of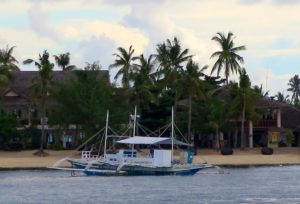 Cebu. This is where boats launch for Malapascau. The taxi offered to take me to Maya for 2500php ($53) about 30 bucks less than the quote from the hotel and dive shop so I took it. I'm glad I did the traffic is horrible on the one road which is one lane all the way up to Maya. It took about 3 hours. I now have a contact name and number who will charge the same for a minivan either way to or from Maya. Gigi speaks English so email me on our Facebook Page if you want his number!!
Once in Maya boats will be waiting from passengers going to Malapascua. They will leave once the boat is full or if you agree to pay double to leave immediately. A shared boat is 100php ($2.12)
GETTING AWAY: Boat left from the beach in front of French Kiss at 7am. They charged 20psp (.50) for the flat small boat that took me to the main boat which costs another 100pho back to the mainland.
HOTEL: I stayed at Tepanee and I wouldn't stay anywhere else. It was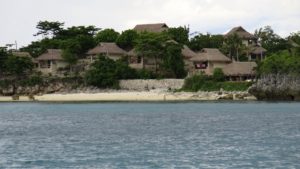 $54 a night and they take credit cards, php, USD or Euros. This hotel was perfect. The room was big and had a safe and a balcony. The hotel has its own beach (beach towels provided) and the best restaurant on the island. Just be careful when swimming off the beach there are a lot of sea urchins so watch before you step. You should have your snorkel gear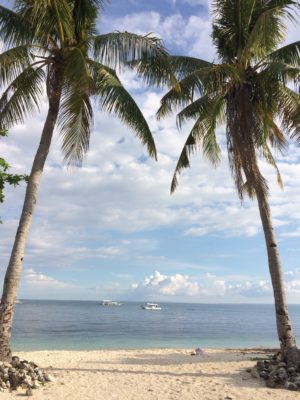 with you, if you took my advice on the Philippines page, because it's a decent place to snorkel. They do laundry at 25php ($.50) per item.
FOOD: There are plenty of places to choose from. In the village, which is a block or two from the hotel, there are a couple of inexpensive local restaurants. All the hotels and dive shops also have restaurants.
Amihan Restaurant Awesome food homemade by the Italian chef.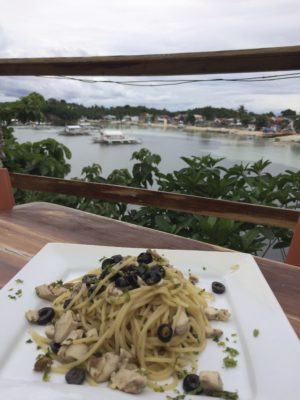 There is a beautiful view. A salad with grilled chicken with a juice 410php ($8.70) For lunch they offer pizza and other dishes on a fixed menu that includes a drink for 300php ($6.36). The food is so good you may want to consider the hotel's all-inclusive option.
Oscars: Upstairs from Thresher Shark dive shop. 2 for 1 happy hour only odd thing was they brought both drinks at the same time. Food was fine. For a calamansi vodka (2 it was happy hour) and pizza bread 330php ($7)
Gelato at Angelina on the beach next to the check in desk at Tepanee. They also serve full meals.
Slams Garden Resort it looked cool & only locals so I stopped in for a drink and thankfully I only stayed for one. I was shocked when a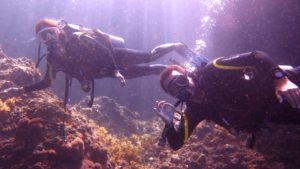 vodka and calamansi cost me $6.50. Perhaps it was because all they had was Absolute. I know if I care about the prices beer was what I should have ordered.
French Kiss Divers on the same beach as the Tepanee has a cool upstairs bar that is perfect to watch the boats come in and it has a direct view of the sunset. Nice staff and they also serve food.
Kokay Maldito Beachfront restaurant and dive resort.  Awesome pizza stone oven pizza . Drink prices are good here too. If you go tell Velma I sent you!
DIVE: I did the Thresher shark dive 3 times and only got skunked once. The other two times I saw at least 4 sharks. In the morning bring a flashlight with you, you will have to leave the hotel around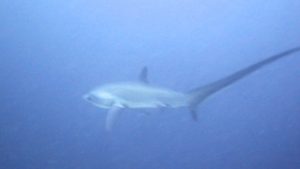 430am to get on the boat for the Thresher shark dive.
There are so many dive shops to choose from. An expat recommended French Kiss but I had already contacted Thresher Shark Divers. Thresher shark is on the beach on the other side from the hotel, we are talking the equivalent of a city block. This was the first place in the Philippines to confirm that I really was a certified diver. The boat offers free tea and coffee. It also had vinegar onboard which could be important if there is sea-lice. I felt lucky because my dive master was a local, Wilbert. He was just awesome. Very safety conscious, always finding and pointing out the cool macro marine life and he really looked after his clients. I would highly recommend diving with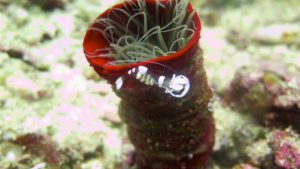 Wilbert.
Dive Prices go down once you do 6 (one tank per dive) or more. I did 6 dives with rented gear and paid a total of $238 this included a 2 tank dive day-trip where lunch was provided:
8400php ($178) which is $30 per dive.
350php ($7.42) gear per dive
150php ($3.18) Marine park fee per dive
350php ($7.42) for the t-shirt I bought my brother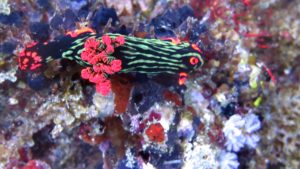 They take credit cards but add a service fee mine was about $13.
OTHER THINGS TO DO: Take a walk to the lighthouse. There are no signs and it is about an hour away but it's a nice walk. Just ask people along the way. The turnoff up to the lighthouse is on a person's private property it's a concrete house on the left, right after you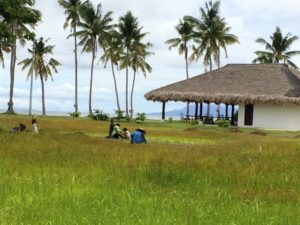 pass the field where you can see the beach. Picture included.
Rent a motorbike for about $10 a day and cruise around.
Walk around the village and visit the bakery and even pop into the school.
Rent a boat for a ride around the island and or a snorkel.
Lay on the beach and read or do nothing. Even if you don't stay at Tepanee they have a beach bar and they will rent you a padded lounge chair on their beach. Or throw your sarong down on one of the many beaches.