August 2013
CULEBRA:

 
 In what is called the Spanish Virgin Islands Culebra is small at 7 miles long and 3 miles wide.  It is a beautiful laid back island and the perfect place for a beach vacation. There's good snorkeling right off the beach. If you are looking for nightlife don't come here.  We arrived mid-August, the start of slow season. A few of the restaurants were either closed or only open a few days during the week.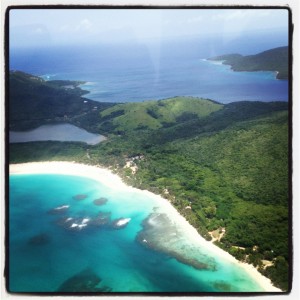 Quick Tips:
-Ferry $2 from the mainland
-Flight from San Juan on a puddle jumper $120/ one-way
-Air Flamenco flies to Vieques for $45/ one-way
-Internet isn't everywhere on the island, not yet anyway
– Send me a message on our Facebook page if you'd like me to send you a complete list of all the beaches and snorkeling that the hotel gave me. It's really descriptive.
Places to Stay:
There aren't many hotel options and luxury you won't find here. We booked two nights on arrival at

Tamarindo Estates.

  It was $158 a night.  Many locals say it's the 2nd nicest place to stay on the island. I came very close to walking away from our pre-paid second night, call me a snob but I dreaded every time we returned to the room. This place has so much potential! The reef right off their pebbled beach is absolutely stunning. (see below)  The sky filled with stars is magical. The grounds are well maintained. So the property is beautiful but the "cottages" are in desperate need of an upgrade. The air conditioner was only in the bedroom. Not that I had any desire to sit in the kitchen/living room but it was way too hot and drab to even consider. It's the type of place that you don't want to kill the spiders because they kill the other bugs in the place. The furniture and furnishing bring you back to the 70s. There's no restaurant or food on or near the property, so plan on renting a car or golf cart to get here. No internet in our room.
We moved to

Club Seabourne

for the rest of our stay. The total (taxes here are high) was about $155 and I was glad to pay it. The room was very nice, clean, modern and it had a balcony. We booked the least expensive room and we were upgraded because the hotel was empty. This is not luxury but it is a solid place to stay.  Beach towels are provided. The hotel is not on the water but there is a pool. The restaurant, Guava, is on site. The chef who runs it is a wonderful and kind woman who combines her education in French cooking with her island background. The breakfast (included) menu is extensive. There is also an outside bar.
 Another option is looking into renting a home.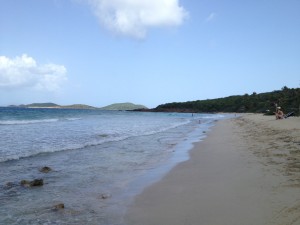 Beaches/Snorkel:
KIM'S PLEA

: Please do not touch the coral or marine life. Don't bother taking the conch and other big shells from the sea they will only be taken from you by customs at the airport.  I saw way too many tourists contribute to the destruction of the reef!
 They are all beautiful for different reasons. The most famous beach is

Flamenco

. It often makes lists of the most beautiful beaches in the world. Not a surprise it is a perfect beach with chalk white sand and the clear blue water. A good beach to walk on and the snorkeling is ok. The problem with this place is all the people. It's the only beach on the island where you can rent chairs & umbrellas, buy lunch, have access to restrooms and showers and even spend the night in the campground.
The parking lot for Flamenco is where you will also park to go to my second favorite place on the island to snorkel,

Carlos Rosario.

  With your back to Flamenco off the left corner of the parking lot is an open gate that says "Danger Unexploded Military Ordnances" Go thru the gate and follow the trail (about 20 minutes) to the end you will see a beach on the left, that is NOT it go to the right. We walked it in flip-flops, but could be very muddy after rain. You won't find many if any people here but you will find a beautiful beach, calm water to swim in and plenty to look at under the sea. The snorkeling was great. Big healthy round brain coral dots the sea's bottom, colorful fish and we even caught a nice size nurse shark taking a nap.
My favorite place to snorkel was off the private, but not much to write about pebbled beach off

Tamarindo Estate

. A strong swimmer could get here from Tamarindo's public beach but it's a good distance. If I return I would get a water taxi to drop me off here. Look for the structure  (an abandoned restaurant) and the white plastic chairs on the shore and get in the water right there or just after the breaking waves at the point. The coral here will take your breath away. It is beautiful and alive. The rows of green, purple and yellow fan coral sway with the tide as if dancing underwater. There's other coral too brain and fire with fish of all color and sizes. Sting rays and spotted eagle rays can be found in the glass just beyond the reef.
Just down from the estate's reef is

Tamarindo Beach

, it is small and the only thing there is a concession for renting kayaks. During season I am told there are tons of turtles eating the seagrass that is right off the beach. We didn't see any turtles here but we did see a few stingrays.
Zoni Beach

is a beautiful long stretch of beach with the beautiful clear blue water that is found all over the island. There are no concession stands here which keeps the foot traffic to a minimum. A wonderful alternative to buys Flamenco.
 There are many more beaches, than the ones I listed, to explore. I just listed the ones I spent the most time at. Keep in mind a beautiful beach where I can also snorkel off of is my priority.
TRANSPORTATION:
It's a small island but it isn't flat so walking isn't really an option if you want to explore the entire island. Many people rent

golf carts

, a less expensive option than a jeep, but these too are challenging with the hills and dirt roads. Taxis cost on average $5 per person for each ride. The full size, four door

Jeeps

are very expensive $80 a day. If you can afford it, it is worth it. Two reasons, easier access and the frequent summer rains. I recommend

Jerry's.

His son and daughter in law were running the place when we arrived and they couldn't be any more helpful! They were great dispensing advice on everything about the island. Once you arrive at the airport you only need to walk across the street. If a golf cart is your choice of transportation a block down from Jerry's is Carlo's rental and they have golf carts and jeeps.
You're hotel can assist with hiring a

water taxi.
Flight:

You may want to book online. When we went to the airport to try and book

Air Flamenco

to Vieuqes we were told they needed 2 more passengers to confirm the flight. So we booked it online. We were thrilled that they guaranteed our transportation when we showed up the next day. We liked the staff and pilot at this company and would use them again!
FOOD
Our options were limited because we visited during the off season, but

Dinghy Dock

, where we had two meals, is always open and the food is good. It's in "town" on the water with a casual bar and restaurant. They have everything from ribs to fish. Service was great and I highly recommend the homemade peanut butter pie.
Guava:

at Club Seabourne was open for dinner a few days while we were there. The chef who runs it is a wonderful and kind woman who combines her education in French cooking with her island background. I really enjoyed the yucca balls filled with cedar cheese. The bar is outside and a nice place to stop and have a drink.
Williams Pizza

: Best internet in town! The pizza was pretty good too. $5.25 for a personal pie and $.50 for a bottle of water. It is located in front of the ferry dock.
Pandeli Bakery

: We went to grab lunch to take to the beach. 2 sandwiches, 1 coke, 2 waters and 2 espressos set us back $15.
Supermercado Coata Del Sol

: It's an island everything is flown or shipped in things are expensive. The gas station also has a mini-market.
###