(Summer 2016)
I came for two days and extended my trip to five days. I was going to head south to the beaches but there was so much to do in Lisbon I decided make the city my base for travel. It was summer and the tourist sights were packed. This time of year you must pack your patience, it will be worth it.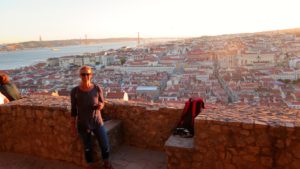 From Airport:
You can take the metro to city center. Taxi 20 Euros.
Hotels:
I spent 2 nights at Lisbon Check-In and would have stayed longer if they had space.  It's a clean nice place in a great location if you don't mind walking a few blocks. My room was  comfortable and minimalistic modern. It was like staying in an apartment with a few shared baths and a spacious kitchen. I never had to wait to use the bathroom and I rarely saw the other guests. The room is big enough and has a TV, towel and AC. There's a Coffee pot with filters and coffee provided. It's less than 100 USD a night but book in advance.
Getting around:
Bus is 1.80 € it's worth it to buy a 24 hour or multi day card. 6.50€ for 24hours of unlimited metro and bus rides 
Things to do:
Monastery: The church is free and that is where Vasco De Gama rests. Don't stand in the entry ticket line to enter, it's to the right and didn't have a line when I was there. Took 2 hours to get ticket inside. (the line went down the block) If it will be worth it, is really up to you. Architecture is impressive but only 2 exhibits that are just ok and 2 halls.  You will likely spend more time in line than in the courtyard.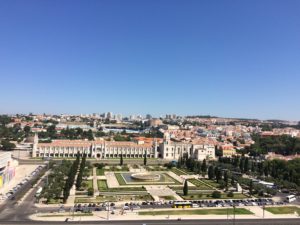 I walked there, it was a few miles, and took the bus back. You can also rent a bicycle there's a great path next to the river and all overpasses have a ramp so you can walk your bicycle up and over. 
Rent a Bicycle. Explore the city 5€
Statute of Discovery  is across the street
Eat: Across from Cais do Sodre (metro/trains to Cascais & Oeiras/ferry all in one station) Time Out is like an upscale and local food court. Any type of meal you are craving can be found here.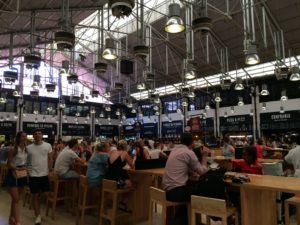 I wandered around in the wrong location for about an hour determined to find Casa Bota Feijao. A nondescript, inside and out, popular lunch location for businessmen. I read about the pit-roasted suckling pig and I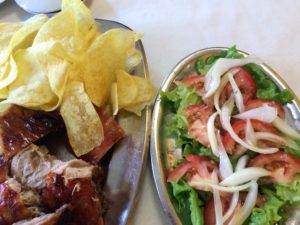 wasn't leaving Lisbon until I tried it. Now I am telling you to try it and I will try to help you to not get lost on the way.
When you get off the train at Oriente walk west (away from the water) pass the bus station on your left. You will see stairs on the righthand side of the street. Take the stairs down and follow the railroad tracks. It is at the end of Rua Cons. Lopo Vaz 5  next to the railroad tracks. It isn't far just well hidden. I would look at a map before you go; But go!
There are so many good restaurants and attractions in Lisbon that you can easily find on the web that I am not going to list them all but below are two day trips that I highly recommend.
Awesome Day Trips: 
SINTRA:  (or stay a night or two)
Leave early or stand in lines for train, bus and tourist sites.
You need to take the train from Restauradores. The metro station is about 2 blocks  and costs 4.80 Euro . This card looks the same but it's different from the bus metro card and you can't use it for the Train. No matter how you get there you should make sure you visit Pena Palace !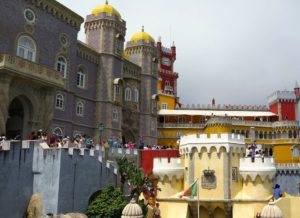 Once there take the Sintra 434 tourist bus. In front of rail station make a right. It's likely you'll see the line before you see Bus 434.   It was 5€ r/t to Palace Pena and three other stops. Trust me this is the best, well unless you have a private driver, way to get around. The bus connects the train station, town centre and Pena Palace. Walking would take way too long.   2km up a steep hill from the historic town is the  incredible Pena Palace and Moors Castle. The bus I told you to take does a loop so you can hop on and off at the different sites.
BEACH: 
Jump on the train at Cais do Sodré station in Lisbon and head to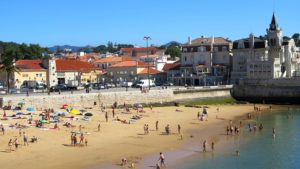 Cascais. Less than an hour from the city, this train trip offers stunning coastal views. Once you arrive you can anchor yourself on one of the two beaches in this quaint town or borrow a bicycle to visit the surrounding area.  Yes I said borrow, the city offers bicycles for free and one of the three locations is near the train station.
I had a destination in mind, Guincho Beach. It is about 4 miles from Cascais and it is on the edge of  Serra da Sintra National Park. (Make sure you cross the road from the beach and take a stroll on the boardwalk) Guincho Beach is known for its waves and wind which brings out the surfers with and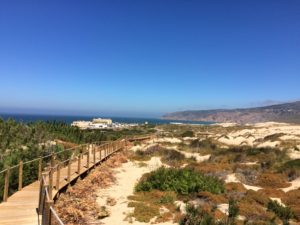 without kites. The wind can make a bicycle trip challenging and if cycling is not for you hop on the bus.
Even with the crowds this beach feels isolated. If you decide to ride a bike or if you have your own car you will likely stop at one of the many spots offering a kodak (or selfie) moment.