August 2014
NAMIBIA
This place embodies what most people think of when they hear the word "Africa."  It is a great country to rent a car and wing it. There's the isolated & eerie skeleton coast, the quaint coastal towns with their German architecture, huge sand dunes in the southern desert, the animals of Etosha and the peaceful river and people in Captiva. Keep your eyes open and drive slowly because there are so many animals on the roads. For example while driving we saw elephants, baboons, warthogs, kudus and springbok. If that's not enough reasons to visit this country the prices on hotels, foods and safaris are extremely reasonable. If you like to camp there are sites everywhere.
Tips:
$1 = 10.5ND (Namibian Dollars) Obviously the prices listed in USD will differ with the exchange rate
-Rent a car (driving is on the left hand side of the road) you don't need a 4X4 unless you want to go off-roading. We drove C and D roads with no problem.
-Get good free road maps from tourist center and note Mile 108 on Skeleton coast does NOT have a place to get gas.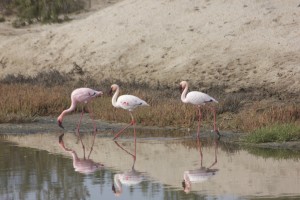 -Bring binoculars and ALWAYS have your camera handy.
-Animals & landscape make it easy to drive long distances
-Car guards: Have some change (about 2ND) ready for those that watch your car. Theft in Namibia has dropped significantly because of them.
-ATMs dispense both ND & South African Rand they're interchangeable  here but you can't use ND in S. Africa
-It's warm in the day and cold when the sun goes down.
WINDHOEK:
A nice small, clean city that's safe to walk around. A good place to pick up supplies, eat & visit the museum, it's worth a day or two.
AIRPORT SHUTTLE: It's about 40 K. to town. We were happy with [email protected] about $17 per person.
CAR RENTAL: Most are at airport but a Thrifty/Dollar in the Hilton downtown. A 4X2 SUV with insurance will run about $900 a week. (The bigger the better with all the gravel roads & $300 to drop it off in Cape Town, South Africa)
HOTEL: Vila Moringa $120 night with breakfast included & good Wi-Fi. A lovely place in a residential area with a pool and nice reading room. Rooms are clean, big and comfortable. A 40 minute walk from town up & down a couple of hills. Taxi to get into town  60ND for 2 people ($5.60) There's secured parking. Hotel has a good restaurant open for dinner.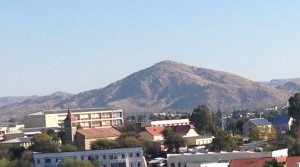 HOTEL: When we came back through we would have stayed at Villa Moringa because we really liked it but it was late and we didn't have reservations so we just pulled into the Hilton so we could be downtown. Our first impression was great thanks to Brandon who checked us in. But for the price, over 2 bills, I was unimpressed. The room was nice as to be expected in a Hilton but I was disappointed by the food from room service. That and being woken at 7am by someone wanting to check our minibar and charging an extra $18 for WIFI made me regret paying so much when we could have gone to Villa Moringa.
FOOD: Wirthaus Windhoek Beer Garden. Downtown on Independence $16 great meal best schnitzel ever, great salad and 2 draft beers. Go during the day and sit outside. (unless you want a singles pickup scene avoid at night)
SWAKOPMUND:
A coastal tourist town with many shops, restaurants & hotels. Cute and pedestrian friendly. An easy 3-4 hour drive on asphalt from Windhoek. A nice beach with cold water.
HOTEL: Zum Kaiser A clean and modern place in a good location, just blocks from the center of town. We paid $142 with breakfast and WIFI.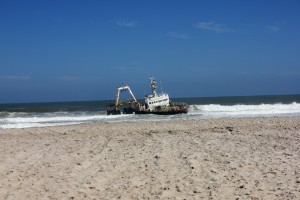 THINGS TO DO: Swakopmund Museum: A very odd collection but interesting info and examples of the country's wildlife & fauna. About $2 to enter.
Aquarium: The only one in the country is about $3pp. It's small but I saw some fish I've never heard of and the water in the tanks are constantly refreshed by the nearby sea.
DAY-TRIPS:
Grab a 90ND (about $9) permit at the NWR office in town (closed on weekends) and explore the Namib-Naukluft Park. It's just outside the town and no need for 4 wheel drive. With your permit you will get a map with a self-drive explaining different points of interest. Here you will see the amazing Moon Landscape and the odd Welwitschia desert plants.
Walvis Bay: 20 miles south on a nice road (there are many seaside guesthouses) Birdwatchers should head straight to the lagoon where you will see a pink horizon thanks to all of the flamingos.
FOOD: Kucki's Pub: food was excellent. They are often booked so make a reservation. Fresh fish and great meat & soups with a few glasses of beer and wine about $42
Lighthouse Pub and Restaurant: Best spot to watch sunset over the ocean. Steaks are good but the cheese escargot was amazing!! Everything is a la carte, even the sauces. About $30 for two with drinks.
ROAD TO: Henties Bay there's two worthy photo ops
Wlozkasbaken Fishing village: Odd homes that have individual water towers atop, here fresh water has to be delivered and pumped to these towers.
Zelia wreck: you can't miss this abandoned Angolan fishing boat.
HENTIES BAY 
This seaside town is popular for fishing off the beach. It's quiet during the off season. Smaller than Swakopmund but has a handful of shops and restaurants. Gas up here.
HOTEL: Fisherman's Guest House: We paid about $95 for a double during low season. A wonderful clean & comfy guesthouse with nice owners. The dinner made by the owner/chef was the best fish dish I ever had. (He previously worked at a Michelin starred restaurant in Belgium & it's obvious) The price for dinner at $16pp for a 3 course meal was worth every cent!
DAY-TRIP: Cape Cross Seal Colony. 80nd pp & 10nd for car ($17 for 2) is worth the short drive north. Seeing so many, up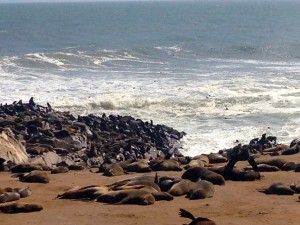 to 100,000, fur seals nursing, swimming and lounging around, allows for many post-able moments. This is also where you will find the Cape Cross, the spot where the 1st European came ashore in Namibia in 1486.
ROAD TO UIS (White Lady) The C35 gravel road is not as smooth as the ride north to Cape Cross.
UIS FOOD: Cactus & Coffee: in Uis an adorable place to stop for lunch or coffee it's a nice way to break up drive and they have free WIFI.
TWYFELFONTEIN:
There's no town just lodges in this area where you will find the rock carvings, desert elephants, organ pipes and Burnt Mountain
HOTEL: Twyfelfontein Country Lodge: Lobby is set in the rocks & has carvings on site. It's a beautiful property w/ pool. Rooms are clean yet basic.  $176 double w/ breakfast and a 20% off for walk-in. (which is risky during high season) Dinner is a buffet and costs extra but there's nowhere else to eat and the food was decent. Manager was very receptive to a few little concerns we expressed and he handled them the way an experienced manager would. Best part was the desert elephant that visited the pond in front of the room and it is close to sites that can reach by car on grated gravel roads. No WIFI.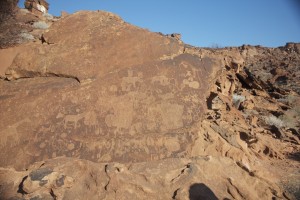 THINGS TO DO:  Twyfelfontein Rock Carvings: 120ND for 2 with a guide. 45 minute walk up in the rocks to visit this UNESCO site. Over 2,000 engravings have been found in the rocks here they are in good condition and some are believed to date back to 3,300 BC.
Damara Living Museum: The community gets a cut so it is worth a visit at 80ND pp. The tour shows the medicine, clothing, jewelry & dancing from the tribes past.
 Petrified Forest. Along the road from the rock carvings are some "private" places to see the pieces of petrified wood its about 100ND for 2 & car. To go to the national park it will be obvious by the official road sign.
ETOSHA:
This is where the game park is. One of the unique things about this park is you can drive yourself. That said if you've never been on a game drive I would suggest taking a guided tour the first day. There's also a market, post office and souvenir store.
HOTEL: All hotels but the NWRs (Namibia Wildlife Resorts) are outside the gate. We stayed a few kilometers down the road from the Anderson Gate at Etosha Safari Camp and would stay there again! $145 for a pool, WIFI and breakfast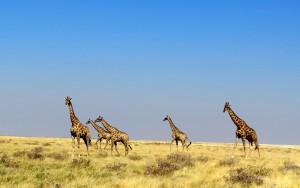 .Great location and the staff is excellent. This place is fun but not fancy. The rooms are clean and comfortable. There's music every night and the food is very good – $23 for dinner. We came for 2 nights and stayed 4. Laundry and even drinks at the colorful bar are reasonably priced. I highly recommend it with or without children!
THINGS TO DO: Etosha National Park For $7.50pp a day & $9.50 for the car you can't beat the price of this safari! One of the unique things about this park is you can drive yourself. That said if you've never been on a game drive before I would suggest taking a guided tour the first day. It will guarantee that you see more animals & you can learn where they can be found in the park. Then go to the store in Okaukuejo (inside the park, past the Anderson gate you pay here at the Visitors Center) and buy the $5 map of the park, which includes an animal key. But remember, once you enter through Anderson Gate there are still plenty of animals to see – be on the lookout. (We saw jackals, giraffes, lots of springboks and even a lion.)
OTJIWANOGO:
We didn't spent time in the town. We came to see the cheetahs.
 HOTEL: Frans Indongo lodge $170 and breakfast was included. It's a beautiful property where you can go hiking and see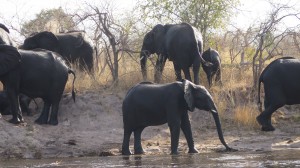 all types of antelope from the deck. The rooms are modern & nicely decorated with items made in Namibia. They do game drives for $20pp in the adjacent private reserve. Food was excellent. Free WIFI & a pool. I really enjoyed this place and wish we could have spent more time here.
THINGS TO DO: Visit the Cheetah Conservation Fund. The work they do is impressive and it's worth visiting to support them. 140ND ($13) per person (remember it's for a good cause!) price included a walking tour where you will see a few cheetahs through the fence. The museum is well done, it was easy to understand and very educational. For an additional price they also offer game drives to see the cheetahs in the open area.
TSUMEB:
Cute small town with a museum & craft market. Only unfortunate thing is KFC & Whimpy have arrived. But a good stopover place for supplies.
HOTEL: Kupferquelle Resort Excellent! Nice modern room for $66 but on our way back they'd raised the price to $78 which was still worth it. The rooms have a balcony, WIFI and there's a pool. Breakfast is not included but a decent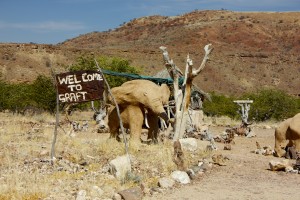 restaurant/bar on the property as is a small minimart. It's just to the right as you enter town. Camping is also available here as with most hotels.
THINGS TO DO: Tsumeb Arts & Crafts on Main Street. If the gate is closed ring the bell. (the owner told me that) It is a great place to buy locally made and reasonably priced gifts.
ROAD TO RUNDU:  outside many of the local villages there are arts and crafts for sale.
RUNDU:
We stopped here to break up the drive to the Caprivi region.
HOTEL: Kaisosi River Lodge: 2 star place with the best internet of the trip. It's on the river so the view from the deck is pretty. For one night the room was fine & the food was good. $80 could have slept 4 people and included breakfast.
ROAD TO KONGOLA:  After seeing so many warning signs for elephants crossing we actually saw one on the side of the road!
KONGOLA:
There's no real town here just a market and a place to get gas. It's in the Caprivi region, the top northeast panhandle. In the north Angola, Zambia and Botswana border Namibia. The lodges line the river bank south of town.
HOTEL: One of my favorite places in Namibia was Camp Kwando Lodge ($150 including breakfast & dinner for 2) This was for the top room. They have "treehouses" and also a camping area. The chalet on the river is very basic, I teased that I was camping, but it had a comfortable bed, warm shower, towels and a big porch to sit and watch the birds on the river. The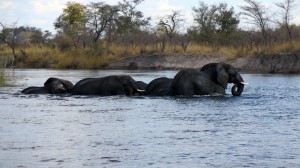 common areas are open, comfortable and look out onto the river to Botswana on the other side. We heard hippos and lions as we slept. The food was excellent. The only disappointment was we were told when we asked at check-in that they had WIFI (I go to school on line that's why its always mentioned) and after settling in we were told the satellite providing the signal had been down for 2 weeks. They offer excursions such as fishing, boat cruises and a game drive at Mudumu National Park. We saw more elephants on our fishing trip than we did on our game drive! Staff, service and facilities were great!
THINGS TO DO: Visit the local villages. Take a walk outside the property, the people are friendly and you get a chance to see how they live. I always have lollipops on me for the kids.
Mudumu National Park: You need a 4×4 to go on a game drive because the road is sandy in some places. But you can take a tour with the lodge. The price was reasonable about $30pp.
Kwando River: Get out on the river whether it is a boat tour or a sunset cruise but it is so peaceful and beautiful. You'll have a chance to see hippos, crocs, elephants and lots of pretty birds.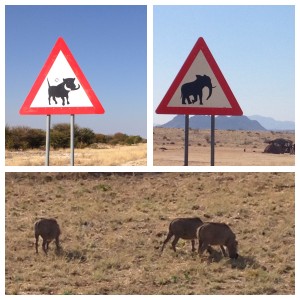 ROAD TO WINDHOEK: From here we went to Tsumeb just for the night to break up drive back to Windhoek. Stayed at the same hotel. The next day we drove to Windhoek with a stop at the Dinosaur Footprints.
THINGS TO DO: On the way back to Tsumeb we stopped at Hoba Meterorite. On a farmer's property for a couple of dollars you can see this meteorite that struck the earth 80,000 years ago.
It was a little out of the way but on our way from Tsumeb to Windhoek we stopped at the 219 year old Dinosaur Footprints. Entrance fee: 20ND. The prints were cool & a pleasant short walk. And the on the gravel road of the highway there were some great animal sightings. Leaving we took the D 2414 Southeast and were happy to learn the public road ran through Erindi, one of the premier private game reserves in the country. A giraffe was in the middle of the road to welcome us.
ROAD TO SOSSUVLEI: A 6 hour drive from Windhoek, but we took the scenic route which included 2 mountain passes. First mountain pass was steep on narrow gravel road with no guardrails. The second was easy but the scenery along the way made the long way round worth it!
SOSSUSVLEI:
This is the desert were the world's largest sand dunes can be climbed; the tallest measure 1,000 feet high. The beautiful Gemsbok also known as Oryx can be seen grazing in plains. Ostrich and springbok are among the larger animals found here. There is no town so accommodations are scattered around the area and are all-inclusive.
HOTEL: Le Mirage spa & lodge. A quirky place in the middle of the desert. The rooms are cement & in spite of what the website says not all have balconies. It's about 20KM from the park's gate. I've been trying to pinpoint my reasons for not being thrilled with this place and decided the price doesn't live up to expectations. The cost was over $340 for 2 people including breakfast and dinner. It's fine if we were paying half that price I would be content with the place. Birds in the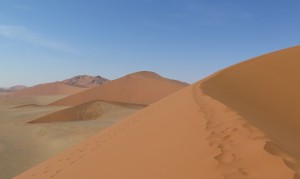 enclosed restaurant especially during breakfast eat the crumbs off the tables. There's a pool and WIFI in the bar. The server Enerita was the standout staff member. It was fine for 2 nights but compared to other places we stayed in Namibia we found it totally overpriced based on the service and the property
THINGS TO DO: Sossusvlei Park.  80ND pp and 10ND for car. Almost the entire road in the park is tarred. Stop at Dune 45 in the morning so you can take your shoes off to hike the sand dune, the sand gets really hot during the day. You can continue to the end of the road where if you don't have 4 wheel drive, for 100ND, a shuttle will take you the last 5KM to the pan and other dunes. We would have been happy skipping this, plus the shuttles took too long to accommodate all the people.
ROAD TO CAPE TOWN, SA: We did a massive drive from Sossusvlei to the border town of Noordoewer. Thankful the scenery was nice during the 7 hour drive.
NOORDOEWER:
 The hotel mentioned below made it worth stopping here to break up the drive south. The hotel has a quaint country store to purchase unique gift.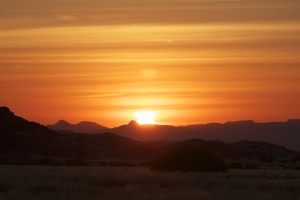 HOTEL: Another great place especially for the $75 price tag. The Noordoewer Guest House, right off the main road to the border, has more of a motel layout but the grounds are wonderful. There's a vineyard in the back and a nice deck and restaurant out front. The room was clean, the bed was a double and the sheets were crisp and white. Dinner in the restaurant was excellent. I highly recommend a stop here when crossing the border. They will even provide you with the immigration papers so you can fill them out before you head south.
####