Bocas Del Toro  2014
OVERVIEW: There's no beach or places to swim in town but there are plenty of bars and restaurants to choose from. There are boat taxis that leave from here to the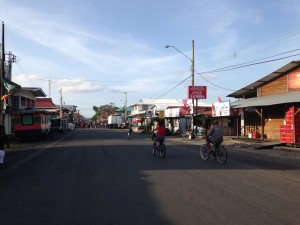 surrounding beaches and bicycles for rent. Bring a flashlight because power outages are normal.
HOTEL: Palma Royal Hotel Probably the most expensive place in the town. $160/night 2 beds 1 in enclosed room, sitting room balcony big bathroom. Front desk is aloof, maintenance and housekeeping staff are top notch.
BEACHES: I wouldn't recommend the beach on the road leaving town but there are some beautiful ones a short water taxi or bus ride away.
Starfish Beach: You can take the minibus to Drago Beach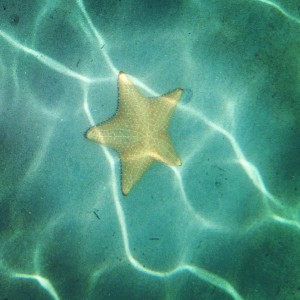 then catch the $1.50 water taxi or do what we did and rent bikes for $7 ride the mountain road about an hour and a half to Drago then catch the water taxi. Beach bar is expensive $5 a smoothie. There are a few restaurants & chairs for rent at $5 a pop. Don't forget your mask and snorkel there are some fun things in the water like barracuda, snook, parrot fish and plenty of starfish to see in the clear blue water.
Playa Bluff. It's about 10 miles out of town. The surf is so powerful it is known for breaking boards. Experienced surfers enjoy it for the long rides waves with the opportunity to get tubed. You can take the minibus or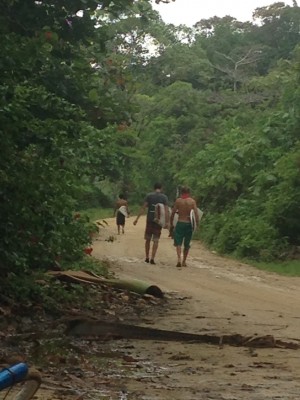 bike it like we did. The ride was challenging especially during high tide. Once the asphalt ends the road turns to hard sand, then a few klicks on a rock road after that a bit of wet beach then back to rocky dirt.  The payoff is a wonderful beach bar with a view of the pounding surf.
Red Frog Beach No snorkeling here and the water is a bit rough with two currents so be careful. Chairs for $5. There's a hamburger stand that sells dogs for $4 and Burgers for $7 There's also a restaurant that sells wraps and other food. When walking from the dock to the beach…oh it's $3 to get on the island and $5 each way by water taxi….you can hear the frogs and look up at the trees a few people spotted sloths. The walk to the beach is about 5 minutes. You can set up shop at the first beach or continue down the beach and around the island about 45 minutes to another beach with calmer seas. There's a hotel and a hostel here that looked pretty cool to spend a night or two.
WORTHY TOUR: Bioluminescent Bay Tour. I can't remember the price but it was a fun night. The water was warm and the bioluminescent was as bright as the stars in the sky. We didn't bring a camera so there are no pictures but imagine swimming & swirling around in what looks like a sea of lightning bugs.
BIKES: can be rented for about $6 a day and they are a great way to see the island.
RESTAURANTS:
El Ultimo Refugio/ The best restaurant I have eaten in during 2 months on the road. The decorations are inviting, the atmosphere was perfect, service was excellent and the food was so amazing. It's around the corner and up the street from the ferry dock. It is the street on the water but almost behind Main Street. For 1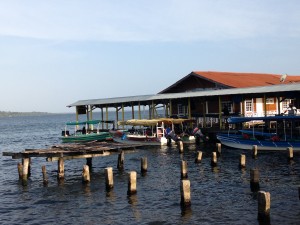 Filet Mignon, 1 Lobster Risotto, 2 vodkas, 1 bottle wine and 1 snickers pie desert we paid $68
Indie: Don't let the very cool and hip décor fool you. The service is dreadful and the food looks great but it is so bland. The bill was hefty. Not my cup of tea or I just went on the wrong night.
Gourmet Grocery Store: Has a deli in the back and sells local products like chocolate, coffee and potato chips. Good place for a snack or to pick up gifts.
CLUB: Pretty neat club out over the water with swimming holes built in the deck is : Aqua. Went there at night it was $5pp cover that included a free drink, to get there from Bocas Town it was $1.50 for the water taxi each way.
GETTING HERE & AWAY: A popular route from here is to or from Puerto Viejo, Costa Rica. It takes about 3.5 hours. For $28 Caribe Shuttle will take you by boat then mini-van to the border which they will walk you across and transport you to your PV Hotel or vice versa.  It's $2 to leave Panama and Costa Rica did not ask for proof of a return ticket as they do at the airport.
(click here if you would like to read the article I wrote about the Pearl Islands in Panama. Back in 2008 while visiting we accidentally walked on to the set of Survivor Colombia)