TRIP DATE: June 2016
Panglao Island: It is a smaller island attached by bridge to Bohol.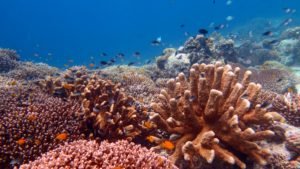 Alona Beach is not much of a beach. There is an area where you can  swim and lay a towel down. Hotels, shops and restaurants line the shore. It's crowded with tourists and trash. But it's worth a trip if you plan to dive. Click here to read my blog post about why my first impression changed after making bubbles.
GETTING THERE:
From Cebu airport to the port a metered taxi was 250php. ($5.50)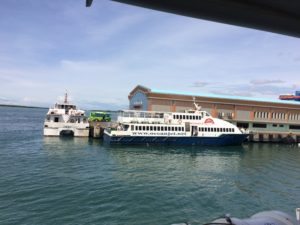 Ferry from Cebu to Bohol is the one going to Tagbilaran. The boats leave hourly. The fast ferry cost 800php ($17.50) for open-air and 1000php ($21.50) for inside with air-conditioner. Remember to go to the inside counter to get your seat assignment after you buy your ticket. The port is in Bohol.
Once on Panglao it's about an hour drive to get to Alona Beach by a private van. The cost 500php ($11). The port exit fee 120php ($2.75)
HOTEL: There are plenty of places to stay in all price ranges.
I ended staying at a place on the beach road called One for Da Road. It was fine. The family who owned it was nice. The room was basic,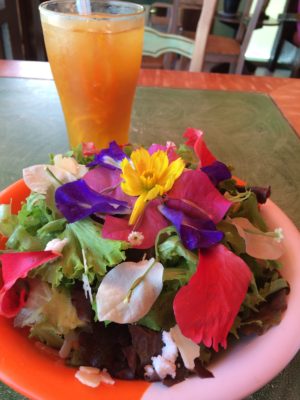 clean with a/c and hot water. I liked that each room had a porch area with a few chairs. The nightly cost was 1100php ($23.50)
LAUNDRY: There's a hut to drop off right at the turn for the road down to the beach. 2 kilos of dirty clothes cost150php ($3.50)
THINGS TO DO:
Diving: The diving was awesome. At the very least snorkel and you should see some pretty cool marine life including turtles. The dive shops will take snorkelers. I went with Go Scuba: the cost was 2300php for 2 tanks and gear ($47)
Whale Shark Tour: 2 hour boat ride each way to the Southern Cebu town of Oslob. If you plan on going to southern Cebu you may want to take the boat one way. It was great to see the whale sharks. I got some wonderful pictures but this tour is disturbing because the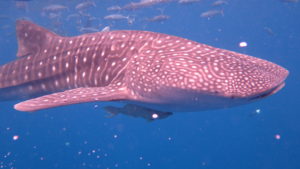 locals feed the whale sharks. It's 1000php ($21) for the boat and another 1000php ($21) to get in marine area. There is also the need to take a trike from the boat and that was 50php (just over a dollar) The "tour" provides a snorkel and mask.  For my swimming with the whale sharks blog click here.
Boat Tours/ Motorbike Rental/ Chocolate Mountain Adventure Park: All of which I didn't do. I dove, saw the whale sharks then took off. It reminded me too much of my hometown too touristy for me so I quickly moved on.
FOOD/DRINK: There are tons of places to choice from
The Buzzz Café:  Organic and healthy food. Their food comes from a local farm. The salad was almost too beautiful to eat. Along with a homemade fruit and lemonade the cost was 330php ($7.03)
Gavroche French Bakery: The food is very good whether it's a pastry, pizza or a sandwich. They have good WIFI. A comfortable space with a/c that is nice to just chill over a cup of coffee.
Giuseppe Pizzeria & Sicilian Roast: This restaurant is just down the main street from the beach about 1 kilometer, a nice walk. It is owned by Italian expats. The food is very good. An example on pricing: Eggplant Parm was 400 ($8.52) Spaghetti Carbonara, water & a glass of wine 643php ($13.75)