Vieques, Puerto Rico
August 2014
Flight: Air Flamenco $45 one way from Culebra (arrive a half hour before flight arriving and departing)
Town: Esperanza vs Isabel      
Isabel gets crowded when the ferry comes in and its at the bottom of a hill.  I liked Esperanza better it was one street, a few blocks long lined with restaurants and bars.  If you're not staying in Esperanza there's a free parking lot at the public beach.
Esperanza
Hotel:
Malecon House: Including the 10% tax it's about $190/night.  Great location across the street from the water and you can walk to several restaurants. There's a public beach down the street.  Rooms are pretty basic but nice. There's a private parking area in front. They have beach chairs, boogie boards and coolers with an ice machine for guests to use. The property has a small dipping pool.
Restaurants
On the Malecon:
Bananas:  $10 -$15 sandwiches really good. Bar gets busy at night
Tradewinds:  Had a great meal here Lizzy's scallops in pasta with a cream sauce was outstanding.
El Quenepo:  Chef is the owner, he's from North Carolina. Good food and awesome mousse. Upscale compared to some of the others on the strip.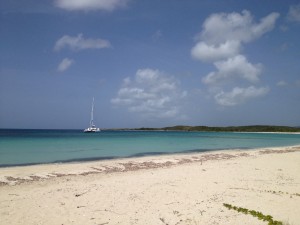 A 10 minute drive inland:
Tin Box:  We liked it so much we went back twice. Most of the fruits and vegtables come from the garden behind the restaurant. The badass bacon is awesome. House cured and smoked served over a bed of lettuce. Homemade mac and cheese, corn-bred, rice and ribs. Food is really good and the staff is friendly.  A lot of locals hang at the bar here.
Beaches & Snorkeling
You really need a car to get around the island and they are expensive about $75 for a jeep.
Green Beach or Puenta Arenas:  Dirt road with many potholes but worth the trip. The road dead ends at the beach with great snorkeling. To the left when facing the water you will find a reef with plenty of fish and big schools. To the right of that you will find the seagrass where many spotted eagle rays, sting rays and depending on the time of year turtles can be found. Known for sand fleas during the day but we had no problem with them when we went once in the morning and another time at sunset. This was my favorite spot, but I love eagle rays.                                   
Blue Beach or La Chiva:  My informal poll told me most people like this beach best. It is beautiful. Long white beach with a sandy bottom that is good fro swimming. If you come to snorkel park in spot 10 and swim out to right side of the island. It can be a good swim out if there's a current. There's seagrass here so on your way out look for rays. Coral and tropical fish are on the reef that surrounds the right side of the island.
Sun Bay:  It is best for swimming and sunbathing. It's the closest to Esperanza and $2 to enjoy. It's a bit like Blue beach but popular because of its location and it's a long stretch of beach with calm water. If you keep going down the dirt road as if you are going into the "jungle" as a local described it, you will take a dirt pothole filled road to
Navio:  You should have 4-wheel drive to get out to this beach.  Another local favorite because this one is rocky, waves here are good for boggie boarding.
****Click here to read about Culebra, Vieques' sister island****