Summer 2012
This page has generic information on traveling to the area. Please note I posted individual pages for some of the atolls we visited, Fakarava, Rangiroa and Bora Bora.
Some interesting stats: Did you know that FP is only an hour longer flight than going to Hawaii from LA? More people go to Hawaii in a week than FP all year.
Happy Travels.
TIPS: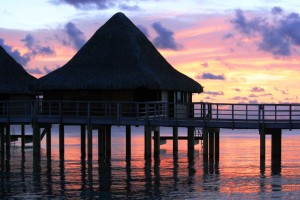 $1 usd = 90xpf
– For great fresh food and a true island experience stay in a Pension and not a hotel. (Some Pensions like the one we stayed at in Tikehau will only take cash) If it's a TV, AC and other comforts you need then hotels are for you.
-Easy to exchange money through bank before leaving
-Expect to spend money.  It's expensive because most things are imported
-Bring: soap and shampoo especially if you are staying in pensions.  Sandals with a strap or watershoes are a good idea as most beaches are like walking on pebbles.  Snorkel gear.
-Misc things to bring: Flashlight, constellation map & liquid detergent for sink washing
-Grab a bike and explore
-No wetsuit is needed if you are snorkeling
-Air Tahiti Nui air pass. In country we decided to change our flights. It was great because there was no charge to change the day or time of a flight and when we added an extra island they charged only $35 per ticket. Yes the airpass is a lot, I think it was about $600 when we went, but it's the only option for multiple atolls. We ended up using it to go from Tahiti to Bora Bora, Tikehau, Rangiroa, Fakarava then back to Tahiti.
– You can carry liquids on the inter-island planes.
– Leave the fancy clothes for home; this is an island – bathing suits during the day and wraps at night.
-Buy a Black Pearl they come in all price ranges. I found out that the high quality has less craters or dents in the Pearl. I waited until I fell in love with one and it found me!!
-NO TIPPING! Got to like that it takes some stress out of paying bills or those helping you.
– To get there you going through LA and will have to connect.  Make sure you give yourself time. Depending on the gate you are leaving from you may have to go outside and catch a bus to a different terminal.  It can take a while.
If you are using different airlines with a tight connection make sure you check into your 2nd flight via Internet 24 hours before.  Also, even if different airlines, sometimes they will check your luggage all the way through — ask.
-Take advantage of local supermarkets to buy snacks, drinks, etc. It will save you a lot of money!
-If you are on a resort property walk off it and whether it's a bottle of water or a bike rental 99.9% of the time you will find it cheaper off site.
-When you arrive you get a flower necklace when you leave it is shells.
HIGHLIGHTS: 
Favorite Dive/Snorkel:

Fakarava's Southern Pass (amazing coral/lots of sharks)
Favorite Pension:

Havaiki Fakarava
Favorite Meal:

Royal RelaisTikehau
Best Buy:

Pareo (local wrap) sales woman taught me to tie & wore over bathingsuit & as dinner dress (2500xpf) And of course my new Black Pearl necklace I got in Havaiki.
Best Pizza:

Lucky House in Bora Bora
DIVING: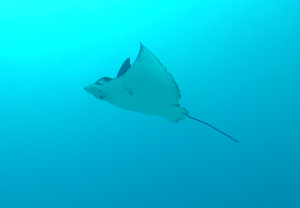 – All gear including wetsuits are included in your 6,000 – 8,000 xpf which is as much as $84 for 1 tank!
– In Tikehau and Bora Bora the dives I went on were 2 tank. In Rangiroa and Fakarava we returned to base after each dive so you could chose to do just one.
-Top Dive has a shop on every island I went on and they offer a 10 tank dive pass and charged me 69000 xpf (approximately USD 766) I used Dive Spirit for the Northern Pass and Tetamanu in the South.  See the Fakarava page for more detailed information.
-The independent dive shops across the atolls have put together a similar discount for a multiple-dive pass. The nice thing about these shops are a lot of them are owner operator and the owners really care about your safety and enjoyment.
-If your traveling companion doesn't dive, the only place worth the expensive cost, at least $55, for them to come along and snorkel is in Bora Bora or Fakarava. Still it is very expensive and you may want to just find a snorkel boat because the dive boat will likely only act as a "taxi" for those snorkeling.
-Average water was about 80 degrees, I wore a full suit the whole time, and average dive was 60 feet.