June 2013
Quick Tips:
-For Visa & generic Myanmar Info click here   
-Airport is called Heho & 45 minutes from lake 25,000k
-$80 USD flight from Bagan & $103 Heho to Yangon
-Catch the puppet show (see below)
-Buy handmade products of  lotus, cotton or silver
-1 USD = 949 Kyat (prono Chat)
NYAUNG SCHWE:
Town just north of the lake, good place to base oneself. Shops. restaurants and can hire boat for lake tour. 
THINGS TO DO:
Boat tour:  20,000K but bring more if you want to shop prices are lower here than in the cities for same items. The boat will take you to the Pagoda, a place to buy the rare lotus fabrics ($60 USD scarf) silver and a stop to see woman from the Kayan Padaung tribe (they have the metal coils on their necks & legs) their scarves are about 8,000k a piece. Plus a stop at a local restaurant.
Aung's Puppet Show: This 4th generation puppeteer puts on daily shows at 7p and 830p. At 3,000k its worth a stop and to support this Myanmar tradition. He sells handmade puppets for $10 USD. If you pass Amazing hotel on your left 2 blocks down on the left, look for the signs.
Walking/Bike: There's a few pagodas in the area. You can ride to the lake and the vineyard
Vineyards: There are 2 in the area we went to Red Mountain and it was beautiful. Tasting of 4 wines was $2 USD. You can bike here from town or the Inle Resport on the lake
KAKKU: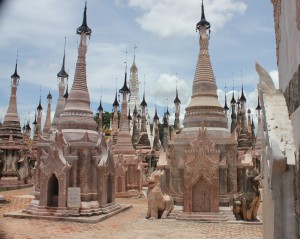 Took a daytrip to this area where there are 2,478 stupas cost us $55 USD First we stopped in the town of Taunggyi where we walked around the market. Then we had the driver take us to the Cultural museum in town where we pad $2 USD to see the 3 rooms mostly of original dress of the 30 Shan nationalities.  We then had to make a stop to get our pass for Kakku.  We paid the $3 per person entrance fee and picked up a mandatory guide for $5. After an hour ride on a bumpy road past rice, peanut and bean farms we arrived at Kakku. Stunning site to see all the stupas in one place. The lunch and drinks outside at the stalls will set you back a couple of bucks (4700 k for big portion of fried rice, soup and 4 sodas) To break up the ride back to town we stopped at a Shan village and walked around and into a sparse home where the locals reside.
EAT:
Star Flower: Tired of noodles and rice? This excellent Italian place is a couple blocks off the main road across from "Small Hut" Indian food.  Wood fire stone oven pizza starting at 5,000k and homemade pasta at 3500k.
 
Viewpoint: Great place to try traditional Shan food from their tapas menu. A wonderful view of the canal and boats below. Tapas about 2500k a piece for large portions. The bar downstairs is a great place for an evening  drink great atmosphere but expensive at 4000k a big beer & 3000k wine
Night Market: For cheap local food pick from the many stalls here.
HOTEL:
Amazing Hotel: $75 USD Could have lived up to its name but the ants took over our room and as helpful as the staff was they weren't very proactive in keeping the room pest free. I had to repeatedly ask them to fumigate. Great location on the town's main road , big porch & nicely decorated. A couple we met that stayed there said they had an upstairs room and it was wonderful & ant free. Based on my experience I can not recommend it especially not at this price and it was low season!
View Point: $120 USD saw the rooms here, they are on the canal and looked really nice. No a/c but they had modern portable fans. In hindsight I probably would have stayed here.
INLE LAKE:
I wanted a hotel where I could get into town and not have to hire a boat for the trip so we stayed at the Inle Resort. (Be careful there are a couple of hotels with similar names this one is next to the Princess Hotel on the northeast corner of the lake) The hotel offers many "monsoon" specials which include rooms from $90 – $155 USD.  Water, wifi and breakfast included. The more expensive rooms have a sitting area and big lakefront porch. Rooms are tastefully decorated. Being on the lake, especially during rainy season expect ants and mosquitos. Housekeeping took care of our critter problem and fumigated every night and morning. The manager was wonderful. He is mindful and cares that his guests are enjoying their stay. The staff is well trained, when we showed up unexpectedly we ran into the chef who carried my bag. English at time can be challenging but the manager had no problem receiving an after hours call to assist us. He suggested the tour to Kakku and the winery up the road. The food is pricey but awesome, the best fried noodles I had all trip. (I ate them daily) The bar is well decorated and a nice place to hang out. You can take a boat into town or a taxi for 15000K. The property rents bikes and has a nice spa with reasonable prices. My 1 hour monsoon discounted aroma massage for an hour was $28 USD.