June 206
1USD = 45 PHP  (PHP prices below are accurate the USD are estimates)
In May 2016 I saw an article about Palawan and the headline read, "The Island No One Wants You To Know About." I now know why. There are already too many tourists who found this place. With its limestone cliffs, lagoons, waterfalls, nice beaches and inexpensive prices it is worth a visit.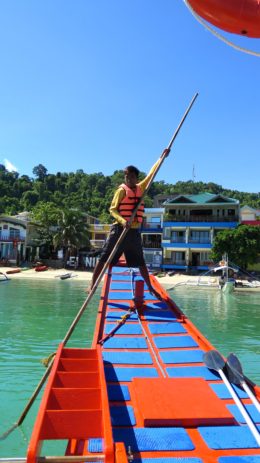 Getting There:
AIRPORT: El Nido: There is a nice tiny airstrip that is serviced by Air Swift. El Nido – Cebu cost us 5500php ($118) one way. We booked last minute. The one hut terminal is quaint and they provide free drinks and snacks for the guests with the bonus of a clean bathroom.
Puerto Princesa: From Manila a one way flight cost 3,763php ($80) The airport is in this southern town and once you land you can walk to hotels and bars. We hopped in a mini van and headed straight for El Nido. It was 6 hours away on a mountain road in a minvan full of people and luggage. It was 600php ($12.75) per person and halfway there we stopped for too long, so the travelers could sit and have a meal.
HOTEL: There are plenty of places to stay in all price ranges.
It was late when we arrived so we stayed at hotel Colombo Hotel. It was located on the "highway" just up the street from town. It was fine. 1 night was $10 and included a good breakfast.
Inngo Hotel 1200php per night ($26) For the price you can't beat this place. It is clean, convenient and has a nice staff. There's a/c and warm water. They provide towels and soap so bring your own shampoo. It's a new hotel and as many in the Philippines it had racks outside of the room to dry your clothes. See the Philippines page about drying clothes. I would stay here again.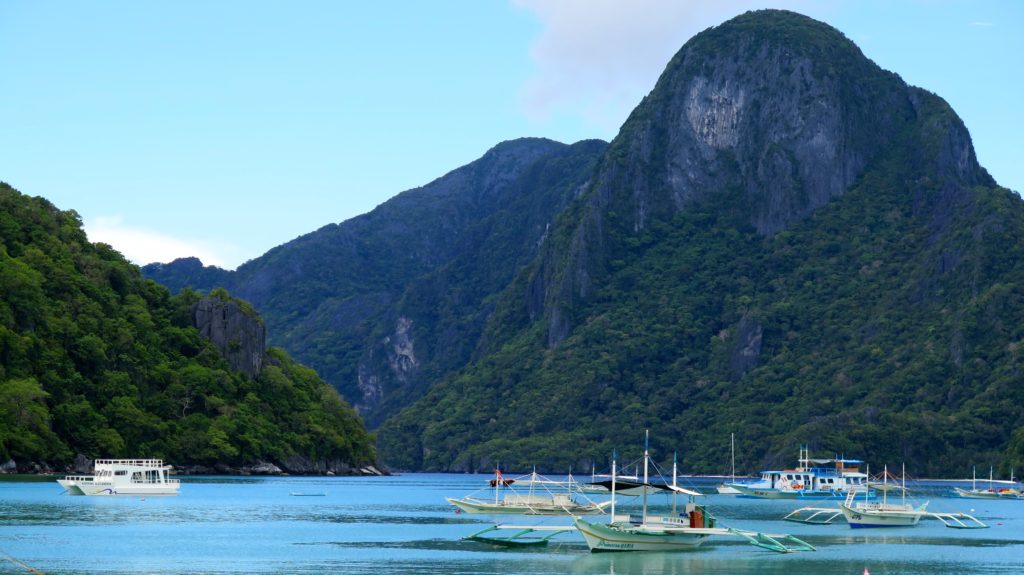 Cadlao is a beautiful resort just up the beach from town. If you want luxury (this term is relative) in this town this looked like the place. 9000php a night. ($195)
LAUNDRY: 2 kilos cost about 170php ($4usd) at hotel next door Inngo Inn they have a dryer so it was one day service.
TRAVEL ASSISTANCE: El Nido Boutique & Artcafe has a travel desk that is very helpful for booking flights. *see below under restaurant.
WIFI: Almost all hotels and restaurants have free internet.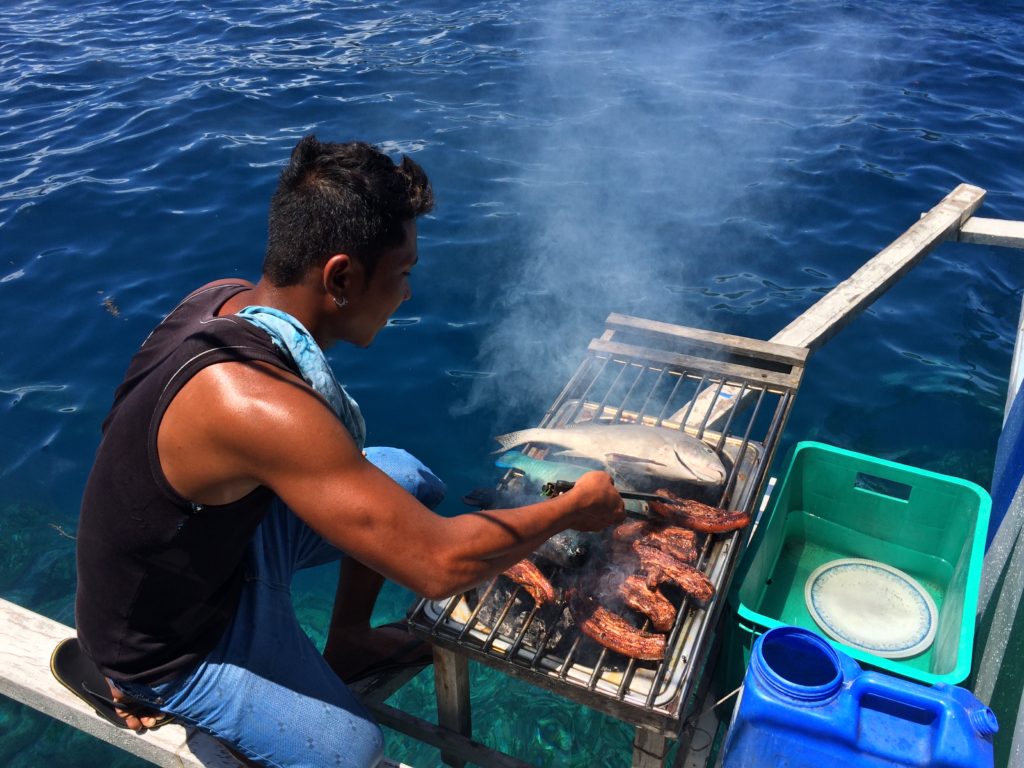 THINGS TO DO: You can't swim in bay in El Nido but the beach offers a beautiful view of the boats with the cliffs in the background.
Boat tours are the thing to do during the day. There are several different types: lagoon, caves, beaches Each one costs or 1200php ($26 pp) They are from 9a-4p and include a very good lunch of chicken, fish, fruit, salad, drinks. The tours are regulated by the government so the price is fixed the problem is that all the boats go to the same place at the same time thus crowding the location. They rent kayaks at each stop and an annoying (the music) ice-cream man is always around looking to make a sale.
Diving is another option. We didn't see a ton of fish but we did see many different species and we did a fun tunnel dive. Plus we were the only ones on the boat so we were able to appreciate some of the beautiful spots without all the other tourists. We dove with El Dive 3600php ($75usd) price included gear, 3 tanks and a very fine lunch. Water this time of year is warm and calm. Visibility is great and it's that beautiful clear blue.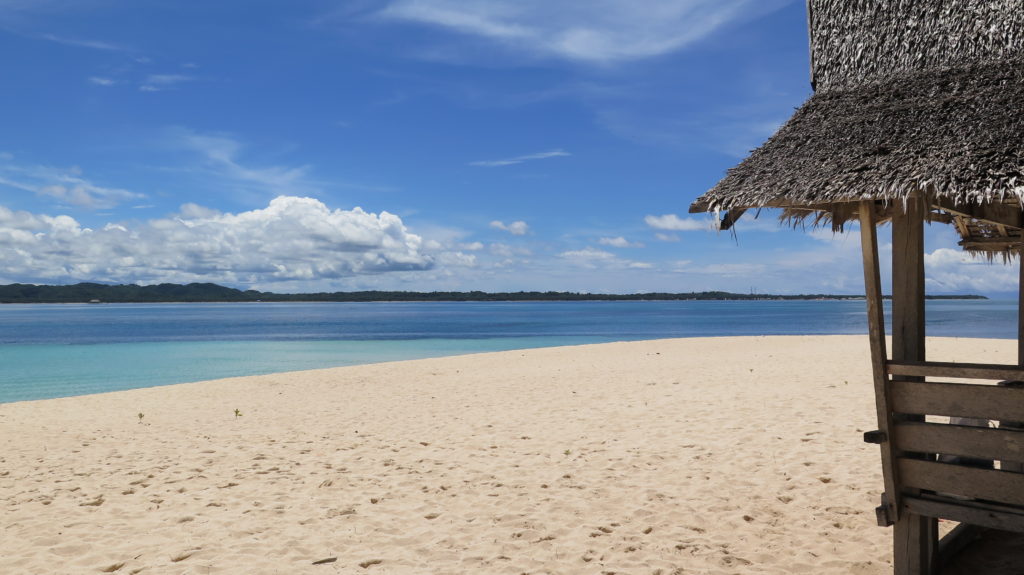 Beach: Take a trike (motor bike with passenger car attached) to Nacpan Beach for the day. It would be cheaper to just get a ride there and NOT pay for a "tour." It's maybe 20 minutes from town. A pretty beach where you can rent kayaks, surfboards and have lunch in one of the restaurants, just watch out for the sand flies.
Beach/Sunset: Take a trike to Cabanas Beach. There's a zipline in the area you can see from here that it goes over the water. If you don't go to swim you need to go for sunset. *See Below.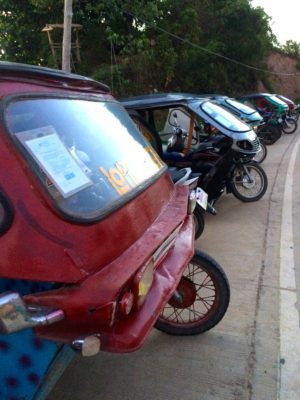 Misc: Rent a motorbike and explore the island. Waterfalls.
FOOD AND DRINK: There's a variety in vibe and pesos. The beach in town is a few blocks long and it is lined with restaurants. The town comes alive around sunset when the boats and tours return. Unless noted the places below are in town.
Sun Bar: On Cabanas beach where they have food and drinks. A San Miguel Beer is 60pp just over a buck.
La Plage: Go here!!! It is a beautiful restaurant on a beach just down the road from Cabanas beach. Fresh fish in banana leaf with mango. tomatoes, onions, ginger, lemongras and basil olive oil 420php ($9)
Republica: Is just down the mountain from Cabanas Beach. Another great place to go for sunset and it is more upscale than the beach bar. It's a Spanish bar/restaurant that sells tapas for about 100php ($4.50). Paella is on special at 800php and beers sell for 70 ($1.50)
El Nido Boutique & Artcafe: Nice clean restaurant with the fastest WIFI I found on the island. Food great especially breakfast fresh fruit and homemade toast. They do things right here. They grow a lot of what they use and the waste goes to compost or animal feed.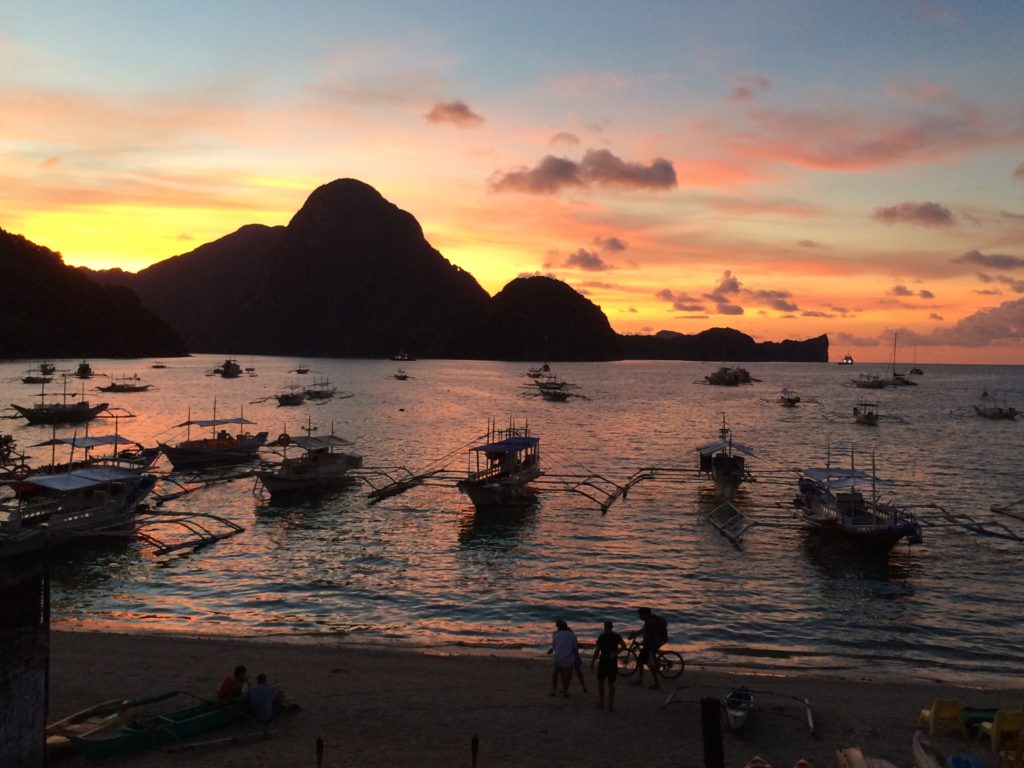 Efficient, which is rare enough to mention.
Altrove Pizza Very good brick oven pizza. A margarita was 310php ($7) We had one with 2 Calamansi drinks setting us back 510php. ($10.50)
Pukka Reggae Bar. This beachfront place has live music and food. Beer 60php and Rum & coke 90php
Sea Slug Restaurant had very good fried rice. We spent about $15 for two rice entrees, one salad and three calamansi drinks
Napoleon Wrasse  An American breakfast was 190php ($4) for a plate of eggs, bacon, fruit, toast and coffee.
Mezzanine Restaurant: In town. Very nice place with great service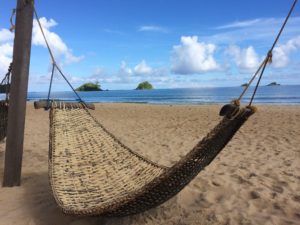 which is rare. Italian and Thai food. An expat sent us here where they serve pizza and pastas at an average of 400pp per entrée ($8.60)
Sava Beach Bar is a beautiful spot on the beach. You can't miss it. It has big windows where you can see the ocean from the street. With its cool hip vie and unique cocktail menu their drinks are a bit more than some other places, 250 – 300php ($5 – $6.50) but they are made with fresh fruits and worth it. Owned by a nice Brit and his just as welcoming girlfriend. It really is a special place that is almost too upscale and cutting edge for El Nido. They don't have a full menu yet but I was told that will change soon.