There's nothing like falling asleep to roaring lions, laughing hyenas and hippos grazing the grass around the tent; where for some reason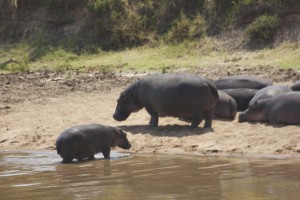 the plastic enclosure makes you feel safe. These sounds and the light from the gazillion stars in the sky are the upsides to camping in the bush.
During day trips in Tanzania's Serengeti Park we were privileged to be just a few feet away from lions mating and a cheetah munching on its catch of the day, a rabbit. (I captured this on video so I could share the experience, just click on the green links above ) Of course we ran across some herds of elephants and as I watched a mom take special care of her baby I wondered why anyone would buy ivory. Killing this animal just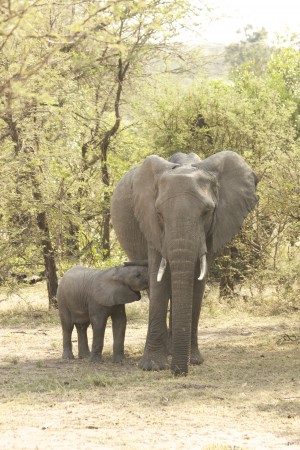 for its tusks is just senseless. On a lighter note the giraffes were my favorite to watch: the way they walk across the plains standing so erect taking gentle steps with their long legs. They seem so elegant. We also saw hyenas, jackals, gazelles, toppies, elands and so many colorful birds it's no wonder the world is filled with birdwatchers.
I did fear for my life at one point during our camping trip but it had nothing to do with the lions or hippos outside our tent, it was fire. As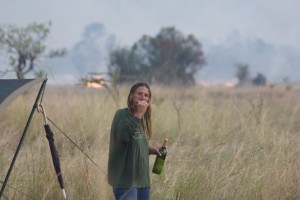 we were driving from the south to our new campsite in the Northern Serengeti we were told by some men on the road that a burn had taken place earlier in the day but the fire was out. Not only did we run right into a live fire, but the three men down the road who told us it was out had just started a fire behind us. So there we were in the middle of thigh-high dry grass with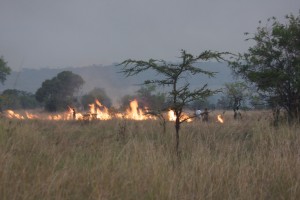 flames on two sides of us. We were told not to worry the men knew what they were doing; it was a "controlled burn." A "controlled burn" here means using a box of matches to light a competing fire while fanning the flames with a big leafy branch. Needless to say I worried our way right out of there.
Fortunately we were unharmed but unfortunately that was not the last fire we encountered while there. We were told that fires are set to eradicate the high dry grass so that new green grass will grow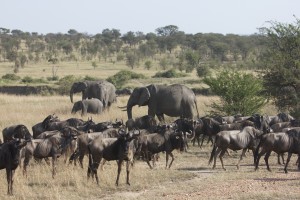 providing food that will keep the wildebeests in the area longer. Fires are set but not maintained therefore staff at the tented camps must start their own fire to create a line that will protect their camps. One was set about 50 yards from my tent. (note the picture above where I am brushing my teeth outside the tent)  I was told the wind wouldn't switch and we would be fine. I still packed an evacuation bag and my "favorite" material items suddenly became insignificant.
The fires were a bit stressful especially one that we drove through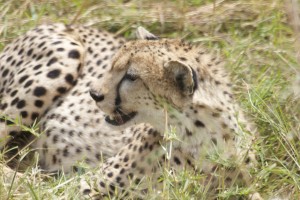 but overall they did not put a damper on our incredible trip. There's nothing that can compare to seeing all these animals in their own habitat. I will be posting more animal videos on YouTube in the next few days. In the meantime you can check out the Facebook page's album Animals in Africa for still photos.
Now my trip focus has changed from wildlife to history and culture, and I have arrived in the perfect place to take it all in, Ethiopia.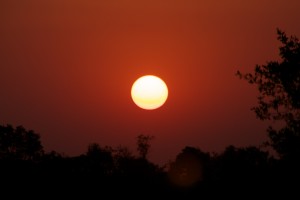 This quote sums up my thoughts on this part of the world: ""If you only visit two continents in your lifetime, visit Africa, twice," R Elliott.
Thank you to our friend Simon at Intrepid Expeditions, LLC for setting up another great trip to Africa for us!