Within minutes of stepping foot in the Medina the sites, sounds and smells of Marrakech engulfs you. It was late at night when the taxi driver dropped me off in front of the square. He left me as close to my riad as he could get to in a car. A riad is a traditional Moroccan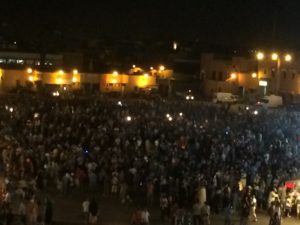 house build around a central courtyard many are hotels and hostels. There I stood clueless with my pack on my back and my smaller backpack in my hands. On the fringe of the square that I needed to enter I mentally paused for a moment to adjust to my surroundings. I noticed the bright lights and smoke in the distance and the crowd, oh the crowd! Just imagine being at a concert of a popular band, it's general admission and you're 4 rows of people back from the stage and now it's your turn for the beer run and you have to go and then get yourself back. Ok you get what I was dealing with without the beer of course! Thankfully I had a landmark, Café de France, that I needed to find but naturally I couldn't see anything past all the people. As I dodged snake charmers, Henna tattoo artists and men with leashed monkeys I looked for tourists to stop and ask the way.
I had already been warned not to get directions from a local unless I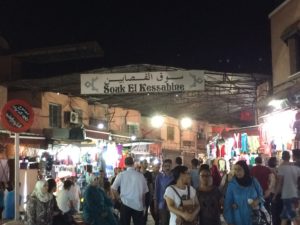 wanted to pay. It didn't take me long to learn that everything and I do mean everything comes with a price in this city. Luckily for me it was my kind of crazy. I loved walking into such chaos. I found my landmark and continued with serious navigational doubts as I went through Moroccan arches that led to cool narrow and quiet alleyways. It was late and I was alone but for some reason I felt safe.
I finally found the Riad only to be told the air-conditioner was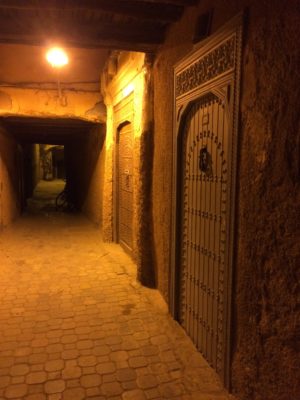 broken and I had to go to another one. At the time I wasn't too pleased but the minute I walked into the new place I felt it was exactly where I should be. It was quieter with décor that was comfortable and cohesive, its character didn't appear forced. The guy who runs the place, Ibrahim, instantly made me feel at home. This would become my sanctuary when I needed a break from the souks, salesmen and scams artists over the next few days.
My favorite encounter was a man who spoke perfect English and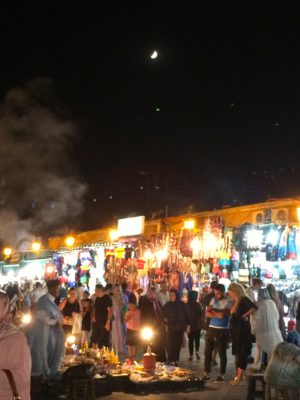 claimed he lived in New York for a few months. He said the shop he was tending was full of donated items with purchase proceeds going to the charity Oxfam. It was located just next to a mosque. This man warned me about his fellow Moroccans telling me to ignore anyone who approaches me to try and help because they just want money. When I left his shop without buying a thing, he strongly urged me to leave a donation. I didn't and he pleaded, "But I was nice to you." HA! At times you become drained with constantly having to say no, having to bargain for everything, and almost everyone you encounter wanting something from your wallet.
That same day I went to the tanneries, where they convert animal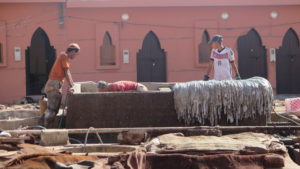 skin into leather by soaking it in concrete pools of liquid. Wow talk about the smell. There were animal skins all over the place in different stages of the process. Of course a man insisted on accompanying me as I walked around. He described the process so I planned to tip him 50 Dirham (just over $5.50), which I felt he earned. Naturally he escorted me to a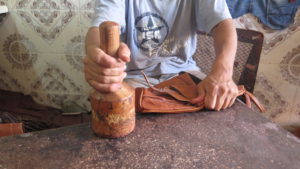 shop to buy leather – at the time it was the last thing I wanted to purchase after seeing how it was made. The salesman, as most here, was very nice until he understood that I meant what I said when he was told, "I am not buying anything." I did use his store to get the tip out of my bag and ready for my "guide." I knew he would be waiting for me out front. It was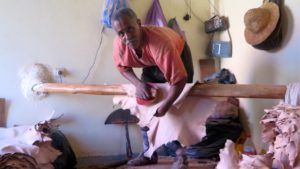 time to part ways and this is when he demanded 200 Dirham (20 Euros) I just laughed and told him he was crazy. I had 50 Dirham take it or leave it. He then said, "100 Dirham" (10 Euros) I laughed again and walked away but I didn't get far before he took my original offer.
Don't get me wrong I met and spent time with some wonderful locals but it is all about where and how you meet them. The people who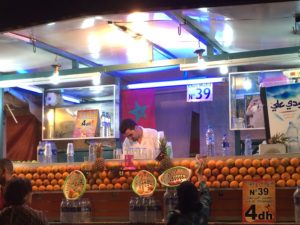 worked and visited the riad were extremely nice folks. When I was buying Orange Juice (best purchase ever at 4 Dirham, 45 cents a glass) at one of the stands in the middle of the square a Moroccan man asked me to take his picture with his OJ. It turned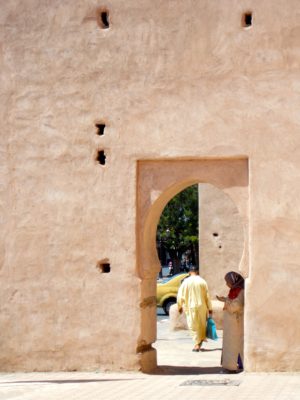 out he was from Casablanca and he was just visiting. We had a nice conversation then he left. When I went to pay for my juice I was told my new friend had already picked up the tab.
Last but not least I had the pleasure of spending 3 days with two young ladies from Marrakech. They joined us tourists on a trip to the Sahara Desert. They were two of the reasons my wall of trust wasn't completely up.
To me there's something magical about Marrakech, it's a city that has the power to make you love it even when you want to hate it.